Gum Health Day 2021 - an overview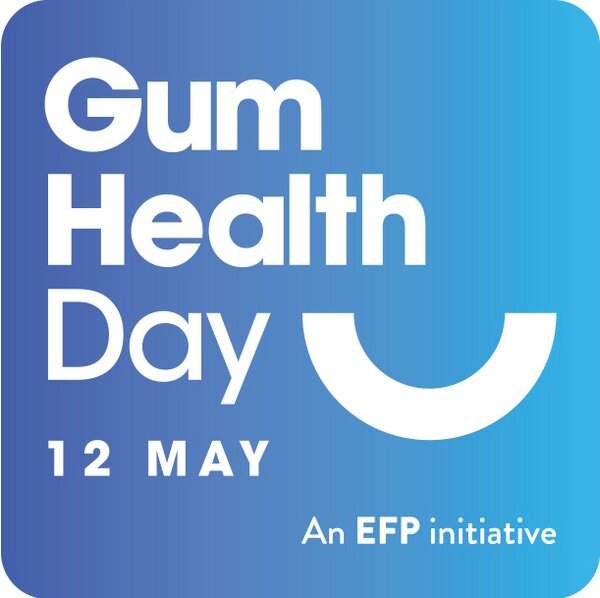 Gum Health Day 2021 on May 12 seeks to raise public awareness of the signs and symptoms of gum diseases - gingivitis, periodontitis, and peri-implantitis. Bad breath and loose teeth can indicate gum disease, tooth sensitivity may be a consequence of periodontitis, and smoking is an important risk factor for gum diseases. Periodontitis is of paramount importance because it is a complex, chronic condition associated with serious systemic diseases.
Using the slogan "Gum diseases are preventable," the EFP and its affiliated societies are preparing a series of communication and educational initiatives for Gum Health Day on May 12, with the emphasis on social media and other online initiatives. The aim is to make millions of people worldwide aware not only that gum diseases are serious, chronic, inflammatory conditions that may negatively affect overall health and quality of life, but also that they are preventable and treatable. The campaign advises people to continue to visit their dentist or periodontist, even during the Covid-19 pandemic.
The EFP has produced a set of four short, cartoon-like films for its affiliated societies of periodontology to use in the initiatives they are preparing for Gum Health Day 2021. These animations are available in English and other languages so that they can be used right away if desired.
Signing the EFP Manifesto
As part of the Gum Health Day 2021 campaign, all health professionals and dental organisations around the world are invited to sign the EFP Manifesto: Perio and General Health, a call to action for the prevention, early detection, and treatment of gum disease.
The EFP-affiliated societies are not the only ones that can take part in Gum Health Day on May 12. Other national periodontal societies, dental practices, universities, and dentistry-related organisations are also warmly invited to join Gum Health Day 2021 and to use the materials that can be downloaded from this site. Their cartoon-like aesthetics and humorous approach make this material ideal for the waiting rooms of dental clinics and for dissemination via social media.
Gum Health Day
Gum Health Day is an international awareness initiative held every year on May 12, whose aim is to increase public awareness of the seriousness of gum disease, the health problems associated with it, and the importance of keeping our gums strong and healthy.
It seeks to remind people, including medical professionals and policymakers, that gum health is a key factor for overall health throughout life, and that gum disease is a relevant public-health concern because it is linked to serious conditions, including diabetes, heart disease, cerebrovascular disease, and maybe even Covid-19 complications. Gum health is relatively easy to maintain and may contribute to preventing many more serious conditions and thereby to considerable savings in medical costs.
Gum Health Day 2021 is the eighth EFP-promoted annual awareness day implemented by the national societies of periodontology. This initiative is now global in its reach and impact, and not only European.
Gum Health Day 2020 was joined by 35 national perio societies from Europe, Latin America, Africa, and the Asia-Pacific region around the slogan "Say no to bleeding gums". The previous year, 47 national perio societies embraced the slogan "Healthy gums, beautiful smile" used for Gum Health Day 2019.