Session 3 | November 15, 2021 | 18:00-20:00 hrs
Periodontal diseases and systemic diseases. Can we improve systemic health with periodontal therapy?
Chair: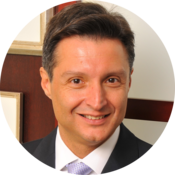 Phoebus Madianos (Greece)
Speakers:
Angela R. Kamer (USA)
Impact on neurodegenerative conditions.
Bjorn Klinge (Sweden)
Impact on cardiovascular diseases.
Francesco d'Aiuto (United Kingdom)
Impact on metabolic disorders.