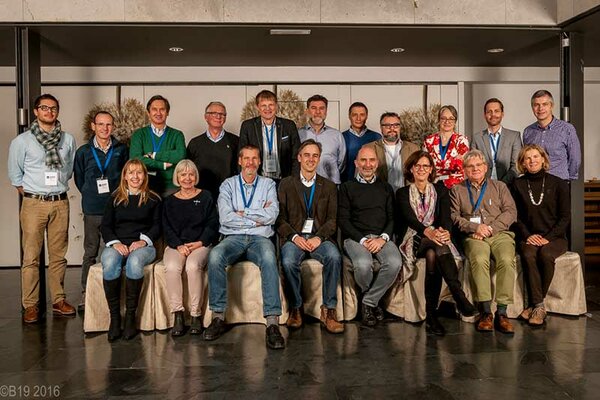 Age-related effects on oral health, dental caries and periodontal diseases
Chaired by Maurizio Tonetti (EFP) and Sebastian Paris (ORCA), this group reviewed scientific evidence and developed specific recommendations for preventing tooth loss and retaining oral function - through preventing and treating caries and periodontal diseases later in life - and increasing awareness of the health benefits of oral hygiene as an essential component of healthy ageing.
Over the previous two decades, progress in preventing and treating caries and periodontal diseases has improved oral health and tooth retention in the adult population. The ageing population and increasing expectations of good oral health among older people pose big challenges to clinical care and healthcare systems.
Three systematic reviews were carried out on: (1) the aspects of caries and periodontal diseases in elders; (2) the impact of ageing on caries and periodontal diseases; and (3) and the effectiveness of interventions.
The experts found that an increase in the total burden posed by caries and periodontal diseases among the older population is a likely consequence of an ageing population, trends in risk factors and improved tooth retention. It noted that specific surveillance is required to monitor changes in oral health in the older population and that ageing impacts oral health, including periodontitis and potentially susceptibility to caries.
Considering the evidence that caries and periodontal diseases can be prevented and treated in older adults, the group found that oral health and functional tooth retention later in life offer benefits, including improving quality of life and preventing physical decline and dependency by fostering a healthy diet.
In the light of these findings, it is recommended that oral healthcare professionals and individuals should not base their decisions affecting tooth retention on chronological age, but on the level of dependency, life expectancy, frailty, comfort and quality of life. As a consequence, health policy should remove barriers to oral healthcare for vulnerable elders.
Chairmen: Maurizio Tonetti, Sebastian Paris
Review papers:
Aging, dental caries and periodontal diseases (by Rodrigo Lopez & Falk Schweldicke)
Changes in immune function (immune senescence) in caries and periodontal diseases: a systematic review (by Philip Preshaw & Georg Conrads)
Gingival recession and root caries in the ageing population: a critical evaluation of treatments (by Peter Heasman & Bente Nyvad)
Participants: Peter Bottenberg, Peter Eickholz, Marie-Charlotte Huysmans, Phoebus Madianos, Frauke Muller, Ian Needleman, Gert Jan van der Putten, Stefan Renvert, Leonardo Trombelli, Nicola West, Jacques Vannobergen, Alix Young
Colgate representative: Ian Pretty
Staff members: Ignacio Sanz-Sánchez, Ignacio Sanz-Martín
See other working groups