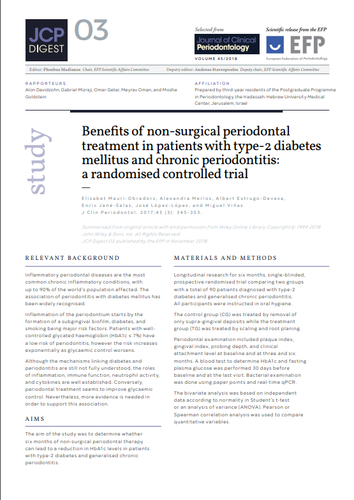 The association between periodontitis and diabetes mellitus is widely recognised and patients with well‐controlled glycated haemoglobin have a low risk of periodontitis, while risk increases exponentially as glycaemic control worsens. At the same time, periodontal treatment seems to improve glycaemic control.
A randomised controlled trial, summarised as JCP Digest 03 (2018:45), sought to determine whether six months of non-surgical periodontal therapy can lead to a reduction in levels of glycated haemoglobin (HbA1c) in patients with type-2 diabetes and generalised chronic periodontitis.
The study, carried out by researchers at the University of Barcelona in Spain, found that after scaling and root planing, the glycaemic levels decreased significantly in the treatment group, while they increased in the control group.
They concluded that adequate periodontal therapy seems to improve the glycaemic control of patients with type-2 diabetes mellitus and chronic periodontitis.
The research was summarised for JCP Digest by third-year students at the EFP-accredited postgraduate programme in periodontology at the Hadassah-Hebrew University Medical Centre in Jerusalem, Israel.