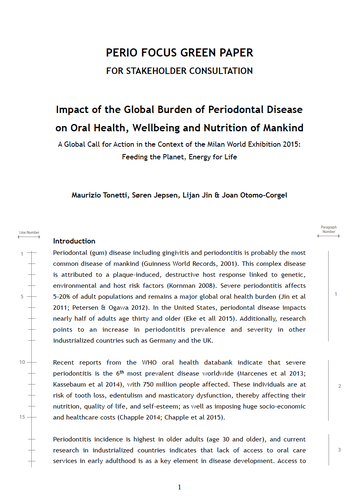 The EFP has been impressed by the positive reaction from perio societies and individuals across the world to the "Perio Focus green paper", issued in January by an international group of leading experts in periodontology.
EFP president Søren Jepsen said that he and Journal of Clinical Periodontology editor Maurizio Tonetti, two of the green paper's co-authors, had been "overwhelmed by the amount of positive feedback and endorsements of societies and individuals from all over the world."
As well as endorsements by the majority of EFP-affiliated national periodontology societies, the green paper has also been endorsed by sister perio organisations from outside Europe.
These comprise the Asian Pacific Society of Periodontology (APSP), the Ibero-Panamerican Federation of Periodontics (FIPP), the International Academy of Periodontology (IAP), and the national perio societies of Argentina, Australia, Azerbaijan, Brazil, Chile, India, and Japan. Also, the American Academy of Periodontology (AAP) has already sent suggestions for amendments.
In addition, there were individual responses to the green paper from periodontal experts in Europe, South America, and Australia.
The green paper, Impact of the global burden of periodontal disease on oral health, well-being and nutrition of mankind, seeks to build a new global consensus around periodontology. It outlines three areas for action: prevention, diagnosis, and treatment.
It was written by Maurizio Tonetti and Søren Jepsen from the EFP, together with Li-Jian Jin, councillor of the Asian Pacific Society of Periodontology (APSP), and Joan Otomo-Corgel, immediate past president of the American Academy of Periodontology (AAP).
All comments are now being considered by the paper's primary authors, who will decide upon their inclusion in the final document. An appendix will be published online which will include all approved submissions.
The final draft will be shared with the EFP, the AAP, the APSP, and the FIPP, and then submitted for publication in the Journal of Clinical Periodontology.
Find more information about the Perio Focus green paper here.