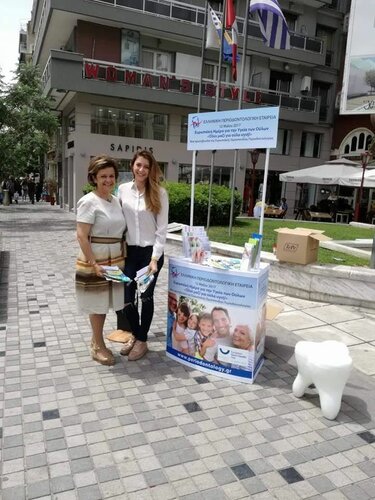 For European Gum Health Day on May 12, the Hellenic Society of Periodontology set up stalls in public squares and shopping malls in Athens and Thessaloniki to hand out information about periodontal health.
The society also offered free periodontal examinations and risk-factor evaluations, and informed people if any periodontal treatment was necessary.
In addition, the society placed advertisements in the daily press and uploaded videos and photos to its website and Facebook page.
"The Hellenic Society of Periodontology wholeheartedly embraced and actively supported the EFP initiative for European Gum Health Day by promoting the motto 'Fighting periodontal disease together' to the Greek public," said Phoebus Madianos, president of the Hellenic Society of Periodontology.
"Announcements in the daily press, outdoor information campaigns, as well as free-of-charge periodontal screenings – provided by the members of our society – honoured this special day."