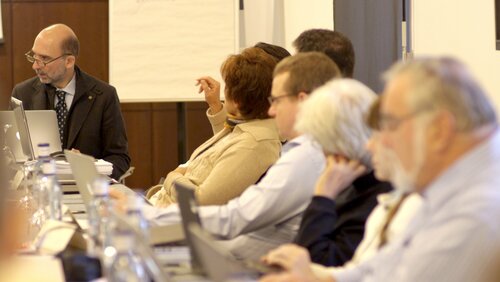 Encouraging mindset and lifestyle changes through methods including smoking cessation counselling should be part of a structured approach to preventing periodontal disease, according to guidelines for the dental team from the European Workshop in Periodontology (EWP) Working Group 1.
The experts emphasise the need for professional plaque removal to be carried out by professionals, for patients to be given careful instruction on hygiene measures, and for profiling of patients at risk.
These recommendations are among the conclusions of the XI European Workshop in Periodontology on 'Effective Prevention of Periodontal and Peri-implant Diseases', which will be published in April in a special supplement of the Journal of Clinical Periodontology (JCP).
The working group, chaired by leading Italian researcher and JCP editor-in-chief Professor Maurizio Tonetti, defined and reached consensus on the requirements of prevention and the major gaps in current approaches. Their recommendations call on oral healthcare professionals to:
Instruct and tailor oral hygiene for each patient – self-performed hygiene is shown by studies to be insufficient for prevention.
Regularly disrupt and remove accumulating bacterial deposits at and below the gingival margin.
Control and manage risk factors such as smoking and diabetes.
Set goals to change patient behaviour and attitudes.
The group, whose designated focus was 'Principles of prevention in periodontal diseases', also called for greater research to build up data on lifestyle aspects of treatment, and said claimed that the lack of financial incentives for professionals could be an obstacle to their adopting methods to bring about behavioural change.
Prof. Tonetti said that the Workshop's conclusions were "of fundamental importance in reorienting clinicians, dental hygienists, dentists, periodontists, and the whole profession in making sure that we do things in a different way."
The chairman of Working Group 1 called for clarity of understanding of the concept of prevention, stressing that preventive measures should not be carried out on patients who already have periodontitis.
"This is really an issue, a misuse of preventive measures. In many countries, what happens is that preventive measures are deployed without a previous diagnosis. They are deployed simultaneously on people with disease who should be treated and not given preventive measures, and those who are actually in need of prevention to maintain health," argued Prof. Tonetti.
Adding that patient education was "paramount", he said: "In the past, the idea was 'let's continue the same message'; after this Workshop, the message is going to be totally different. We are not only focusing on what kind of behavioural change people need to achieve, but also on what is necessary for them to achieve the behavioural change."
Working Group 1 was chaired by Maurizio Tonetti, with Ian Needleman, Christoph Ramseier, Tim Newton, and Niklaus Lang acting as reviewers. The other participants were Peter Eickholz, Bruno Loos, Panos Papapanou, Ubele van der Velden, Gary Armitage, Philippe Bouchard, Renate Deinzer, Thomas Dietrich, Frances Hughes, Thomas Kocher, Rodrigo López, Luigi Nibali, Bernadette Pretzl, Ignacio Sanz-Sánchez, Ulrich Schlagenhauf, and Jean Suvan. The event's sponsors were represented by Ekaterina Fabrikant (Procter & Gamble) and Angela Fundak (Johnson & Johnson).
The Workshop's other working groups covered 'Primary prevention of periodontitis – managing gingivitis' (Working Group 2, chaired by Iain Chapple). 'Primary prevention of peri-implantitis – managing peri-implant mucositis' (Working Group 3, chaired by Sören Jepsen), and 'Managing complications of gingival and periodontal diseases and professional mechanical plaque control' (Working Group 4, chaired by Mariano Sanz, who was also chairman of the overall XI Workshop).
EFP Workshop
This eleventh EFP Workshop, sponsored by Johnson & Johnson and Procter & Gamble, was held last November in the Spanish mountain town of La Granja de San Ildefonso, a picturesque hamlet near Segovia.
Researchers in the systematic-review procedure took part in four days of long, intensive sessions. Their work continued during the following months, much of it in the hands of the working-group chairmen, who carefully prepared the conclusions to meet the deadlines for the publication of a special Workshop supplement in the April issue of the JCP. A preview of those guidelines took place recently in Rimini at the 17th annual meeting of the Italian society SIdP.