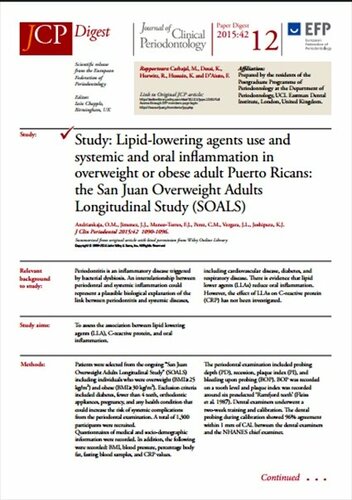 Research suggests evidence of an association between the use of lipid-lowering agents (LLAs) and a reduced level of periodontal inflammation, as measured by bleeding on probing (BOP).
A study to assess the association between LLAs, C-reactive protein, and oral inflammation was carried out by researchers at the School of Dental Medicine at the University of Puerto Rico. A summary of their findings was published as JCP Digest 12 (2015:42).
The thinking behind the study was that interrelationship between periodontal and systemic inflammation could represent a plausible biological explanation of the link between periodontitis and systemic diseases, including cardiovascular disease, diabetes, and respiratory disease.
While there is evidence that lipid lower agents (LLAs) reduce oral inflammation, the effect of LLAs on C-reactive protein (CRP) had not previously been investigated.
The study focused on overweight or obese Puerto Ricans, using the San Juan Overweight Adults Longitudinal Study (SOALS), and a total of 1,300 participants were recruited. The periodontal examination included probing depth (PD), recession, plaque index (PI), and bleeding upon probing (BOP).
Among the results of the research, LLA-using participants had lower BOP and lower hs-CRP levels in comparison with non-users and LLA-use was associated with lower percentage of patients suffering from moderate or severe periodontitis.
The researchers cautioned that BOP is a surrogate marker of inflammation, so it was not clear from the study whether LLAs affect inflammation or bleeding only.
Concluding that the data provided evidence of an association between the use of LLAs and a reduced level of periodontal inflammation (as measured by BOP), the researchers said that further investigation in this area was needed "to ascertain whether this association is causal and reversible and of clinical significance."
Originally published in the December 2015 edition of the Journal of Clinical Periodontology, the research was summarised for JCP Digest by residents of the Postgraduate Programme of Periodontology at the Department of Periodontology, UCL Eastman Dental Institute, London, United Kingdom
JCP Digest 12 is available in English, with versions in French, German, Italian, Portuguese, and Spanish to be published soon.