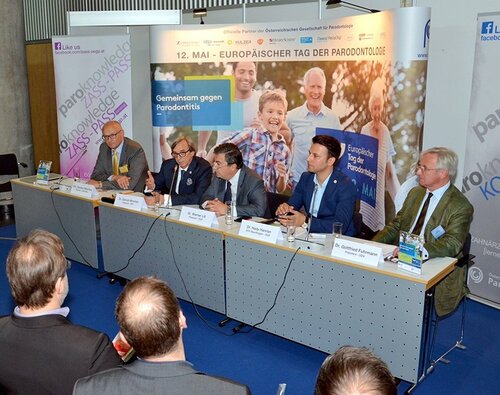 European Gum Health Day 2017, held on Friday, May 12, proved to be a major success for the EFP and its affiliated national societies, bringing a clear message about the importance of gum health and its relationship to general health to millions of people.
Using the slogan "Fighting periodontal disease together," events and media activities were organised by 27 of the EFP's 30 affiliated national societies of periodontology in Europe, the Middle East, Caucasia, and North Africa.
Activities included free periodontal screenings, the handing out of leaflets in town squares and shopping centres, television and radio interviews, and conferences and university courses about the relationship between periodontal and systemic health.
The impact does not stop here, as media coverage in the coming weeks will consolidate the effect of this year's periodontal-health awareness day. Press and TV coverage has got off to a promising start.
Participating national societies have sent press releases to thousands of media outlets to spread the message about the impact of periodontal diseases, their relationship with systemic diseases, the importance of periodontal health, and its contribution to general and public health.
In addition, the social-media coverage of European Gum Health Day – organised under the hashtag "#perioday" – will gain momentum as Facebook and Twitter users "like", comment upon, and share material related to the event.

"We have to acknowledge the tremendous efforts of 27 national societies in making the very same day a massive campaign for the good of the population," said Filippo Graziani, EFP co-ordinator of European Gum Health Day 2017. "This is unprecedented in European dentistry and I am deeply grateful to dozens of colleagues volunteering throughout Europe to make this day a very special one."
The high level of participation means that 90 per cent of the national societies that make up the European Federation of Periodontology took part. In last year's event – held under the name "European Day of Periodontology" – 21 of the then 29 EFP member societies were involved, a participation level of 72 per cent.
European Gum Health Day 2017 was organised by the national societies and co-ordinated by the EFP, which provided them with guidelines and resources – including logos, posters, and graphics for social media – that could be customised to local circumstances.

The 2017 event is the fourth successive year that the EFP and its national societies have held a periodontal-health awareness day on May 12. Each year has seen a significant increase in participation and impact.

"European Gum Health Day 2017 is the only international initiative aimed at raising public awareness of periodontology, a branch of dentistry that is already officially recognised as a dental speciality in many countries," said EFP president, Gernot Wimmer.
"Recognition of the importance of healthy gums for both oral and general health is only part of the EFP's mission – the next challenge is to get this information into circulation so that all the citizens of Europe can share in the benefits of oral health and well-being," added Tiernan O'Brien, chair of the EFP communications committee.
"This is a massive undertaking and is only possible with the assistance of our member national periodontal societies across Europe. Every year this project gets better and this is a testament to the dedication of our national societies to this public-health issue. Europe needs to know that gum health is important and achievable – this is what European Gum Health Day is all about."
See also: Perio Insight: Filippo Graziani, co-ordinator of European Gum Health Day 2017, outlines his vision for the May 12 awareness day
EFP president to host European Gum Health Day press conference as 26 national societies confirm their participation
European Gum Health Day makes an early impact in the media