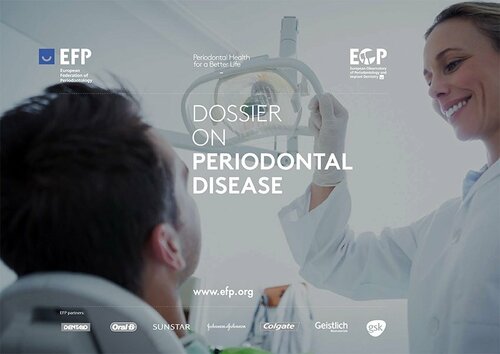 The EFP has published a revised version of its extensive dossier on periodontal disease, to provide periodontal professionals, general dentists, and other health professionals with the latest information and insight.
The new version of the Dossier on Periodontal Disease includes updated statistics, facts, and new scientific evidence.
For instance, it incorporates new definitions in relation to periodontal disease adopted by the World Workshop on the Classification of Periodontal and Peri-implant Diseases and Conditions, held by the EFP and the American Academy of Periodontology (AAP) in Chicago in November 2017.
The document also provides direct links to the consensus reports and guidelines from the 2014 European Workshop in Periodontology (the "Prevention Workshop") on the prevention of periodontal and peri-implant diseases and conditions, and to the report and guidelines from the 2017 Perio-Diabetes Workshop (a joint workshop between the EFP and the International Diabetes Federation).
The 16-page dossier is divided into nine sections:
Impact of gum health;
What is periodontal disease?;
Periodontal disease in Europe;
Consequences of periodontal disease;
Causes of periodontal disease;
Diagnosis of periodontitis;
Prevention of periodontal diseases;
Treatment of periodontal diseases;
Look after your gums.
The dossier – an updated version of the document originally published in June 2015 – has an improved design and new graphics. It has also been brought up to date in terms of listing the EFP's national-society members and partners.
The EFP encourages its 30 affiliated national societies of periodontology to distribute the dossier among their members, providing it to dental practices and universities.
"This is a key summary resource that has been updated by the European Observatory on Periodontology, an official organ of the EFP that provides the most up-to-date evidence-based intelligence and data for the public, professionals, and other interested parties," said Iain Chapple, EFP secretary general. "This dossier is an excellent resource and will continue to be updated as new information emerges".