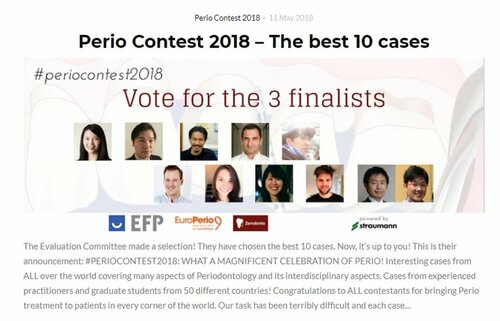 A total of 137 cases from 50 different countries have been presented in Perio Contest 2018, a competition organised the EFP and the EuroPerio9 organising committee in collaboration with Zerodonto, an Italian dentistry blog.
Periodontists and other dental professionals were invited to take part in this competition for the best single-case report that covers any aspect of periodontology, including dental implants, aesthetics, and interdisciplinary cases with a significant periodontal component.
A jury whose members includes Søren Jepsen, scientific chair of the EuroPerio9 organising committee, and Maurizio Tonetti, editor of the Journal of Clinical Periodontology, has now chosen the 10 best cases.
These cases have now been submitted to an online poll that will choose the three finalists. Each case can be viewed at https://contest.zerodonto.com/ where votes can be cast – each person can vote for only one case. Voting is open until May 20.    
In a statement, the jury said that there had been interesting cases from all over the world covering many areas of periodontology and its interdisciplinary aspects, adding: "Our task has been terribly difficult, and each case has been assessed in terms of diagnosis and treatment planning, clinical execution, quality of the material, and soundness of the treatment principles."
The three finalists chosen by the online vote will each present their cases at a dedicated session on the final day of EuroPerio9 (Saturday, June 23).
The eventual winner will be chosen from these three through a composite score obtained from a live poll carried out at the session and input from the evaluation committee.
The competition was organised via Zerodonto's social-media channels (Facebook, Instagram, Twitter, and Google Plus). Zerodonto said that via these channels, the competition had reached more than six million people, with more than two million interactions (likes, shares, comments).
All 137 case reports can be seen at the Perio Contest 2018 section of the Zerodonto website.
The winner of the contest will receive a 3D printer provided by Straumann, while the three finalists will all receive free registration for EuroPerio9 and a travel grant.
The members of the jury are Maurizio Tonetti, Søren Jepsen, Diego Velasquez, Pierpaolo Cortellini, Rony Jung, Tomohiro Ishikawa, and Otto Zuhr.