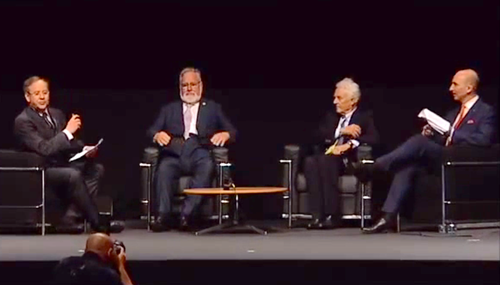 A video of the memorable ceremony which closed the EuroPerio 8 congress has now been released on the EFP's YouTube channel.
The 98-minute video, 25 years of periodontology in Europe, gives those who attended EuroPerio8 in London the chance to relive one of the event's highlights and enables those who could not be there to see what all the fuss was about.
Most of the June 6 closing session was dedicated to a comprehensive review of periodontology over the past 25 years in Europe, an early celebration of the EFP's quarter-century anniversary in 2016.
Mariano Sanz, scientific chairman of EuroPerio8, and Maurizio Tonetti, editor-in-chief of the Journal of Clinical Periodontology, were the co-presenters of this review, which featured appearances via previously recorded interviews by leading perio researchers and practitioners.
These were contributions from Tord Berglundh, Iain Chapple, Pierpaolo Cortellini, Jean-Louis Giovannoli, David Herrera, Niklaus Lang, Jan Lindhe, Phoebus Madianos, Wim Teughels, Stefan Renvert, Massimo de Sanctis, Ubele van der Velden, and Otto Zuhr.
Perhaps the highlight of the whole ceremony was the appearance on stage of the two "architects of modern periodontology", Sweden's Jan Lindhe and Switzerland's Klaus Lang, who took part in a lively debate that was enthusiastically received by the audience.
The video concludes with Francis Hughes, chairman of the EuroPerio8 organising committee, thanking all those involved in making the event such a success and handing over to the organising committee for EuroPerio9 (Amsterdam, 2018), led by former EFP president Michèle Reners.
The final words are spoken by the current EFP president Søren Jepsen, who told the assembled delegates: "It's unbelievable what Francis and his team have accomplished, for arranging this record-breaking, fantastic, outstanding congress. The best EuroPerio ever!"
The EFP's YouTube channel, www.youtube.com/user/PerioWorkshop, was launched three years ago and offers more than a hundred perio-related videos ranging from scientific presentations to EuroPerio8 speakers talking about the event's host city of London.
The EFP recommends that viewers subscribe to this channel and thereby receive updates on new videos as they are uploaded to the site.