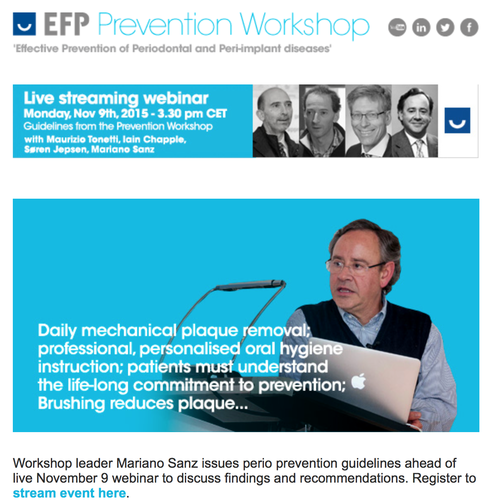 The second issue of the newsletter dedicated to the findings of the XI European Workshop in Periodontology, the 'Prevention Workshop', has been published by the EFP.
The November edition of this newsletter includes a preview of the EFP Prevention Workshop's guidelines for dental practitioners and hygienists which were presented and discussed in detail on Monday, November 9 in a 'webinar' streamed live from a TV studio in Madrid.
The event was chaired by Prevention Workshop chairman Mariano Sanz, who was joined by co-chairmen Iain Chapple, Søren Jepsen, and Maurizio Tonetti.
As well as giving a glimpse of the material that will be covered by the webinar, the newsletter also includes material about chemical plaque control and about how flossing is not effective in plaque removal or in reducing inflammation in patients with periodontitis.
It is the second Prevention Workshop newsletter, following that of October, which featured links to videos in which Prof Chapple talks about periodontitis as a public-health problem and Prof Tonetti explains the best way to approach counselling patients about lifestyle changes.
The October newsletter also covered the topic of halitosis and the need for public-health campaigns and universal periodontal screening. Both newsletters include links to the EFP Manifesto on perio and general health.
The XI European Workshop in Periodontology, which took place in Spain in November 2104, was dedicated to ''Effective prevention of periodontal and peri-implant diseases'. Its proceedings and conclusions are available online in a free, open-access supplement of the April 2015 issue of the Journal of Clinical Periodontology.