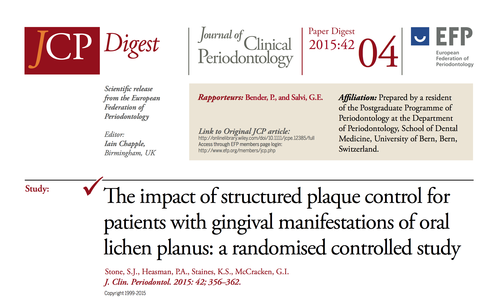 Structured plaque-control programmes could improve quality of life for patients with gingival oral lichen planus (OLP), according to research published in JCP Digest 04 (2015:42), which is now available for viewing and download in PDF format from the EFP website.
This latest edition of the EFP's research summary offers an appraisal of a randomised controlled trial that investigated the impact of improved plaque control upon gingival symptoms of OLP, which can range from slight sensitivity to spicy or acidic foods to severe pain.
The study, published in full in the April 2015 edition of the Journal of Clinical Periodontology (JCP), involved 82 adult patients with gingival OLP. It found that there were statistically significant reductions in pain, functional restriction, discomfort, and plaque scores in the structured plaque-control intervention group compared with the control group.
As a result, the researchers recommended that oral hygiene instructions should be provided during initial consultations, backed up with monitoring and reinforcement during maintenance visits.
The original paper, The impact of structured plaque control for patients with gingival manifestations of oral lichen planus: a randomized controlled study, was written by Simon Stone, Peter Heasman, Konrad Staines, and Giles McCracken.
It was précised for the JCP Digest by postgraduate periodontology students at the Department of Periodontology in the School of Dental Medicine at the University of Bern in Switzerland, working under the direction of Dr Philip Bender and Prof Giovanni Edoardo Salvi.
Each edition of the JCP Digest provides a concise summary of a relevant research paper from the JCP. The current and previous issues can be accessed here.