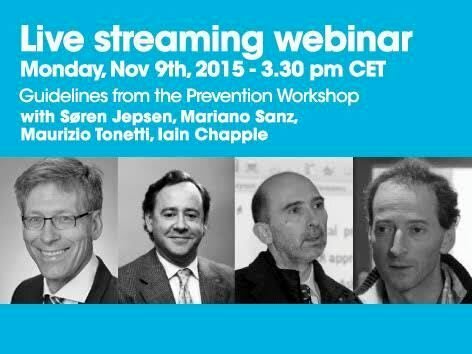 The EFP held a live streaming webinar on November 9 in which the four co-chairmen of the EFP Prevention Workshop talked about its conclusions and guidelines on preventing periodontal disease and peri-implantitis.
The live internet seminar, which took place at 15.30 h (CET), featured contributions from all four chairmen of the Prevention Workshop's working groups.
Broadcast live from a television studio in Madrid, it was hosted by Mariano Sanz, chairman of the 11th European Workshop in Periodontology on 'Effective prevention of periodontal and peri-implant diseases'. He was joined by co-chairmen Iain Chapple, Søren Jepsen, and Maurizio Tonetti in discussing the conclusions of this Prevention Workshop and its detailed guidelines for periodontists, other oral-health professionals, and patients.
Among the conclusions of this workshop were:
Interdental brushing rather than flossing should be recommended because of the lack of evidence of the effectiveness of dental floss in patients with gingivitis or periodontitis.
Rechargeable electric toothbrushes are more effective than manual brushes in removing plaque.
Dental professionals need to give instructions to patients on self-performed hygiene actions.
Peri-implantitis is "an emerging public-health issue" and public-health campaigns are needed.
As well as discussing the Prevention Workshop, which was held in November 2014, the webinar's participants also talked about the previous European Workshop in Periodontology, held in 2012, which focused on the links between periodontal and systemic diseases.
The November 9 webinar explored the ways in which professionals can give effective advice to patients and encourage lifestyle changes. It highlighted the potential role dentists can play in the primary prevention and early diagnosis of both periodontal disease and systemic diseases.
Access to the webinar was free of charge, but prior registration was necessary. Priority was given to members of the national periodontal societies which make up the EFP, although the event was also open to general dentists, dental hygienists, dental students, and other health professionals.
This live streaming webinar is one of the first initiatives to express the EFP's new strategic vision of 'Periodontal Health for a Better Life'. To present this webinar to the media and to other key EFP stakeholders, several communications activities have been planned, including events in Italy on October 30, Germany on November 19, Spain on November 26, and the United Kingdom on December 3. Similar activities are being planned for France and the Netherlands.
Further information about the webinar can be found on the Prevention Workshop website, prevention.efp.org.
The proceedings of the Prevention Workshop are available online in a free, open-access supplement of the April 2015 issue of the Journal of Clinical Periodontology.