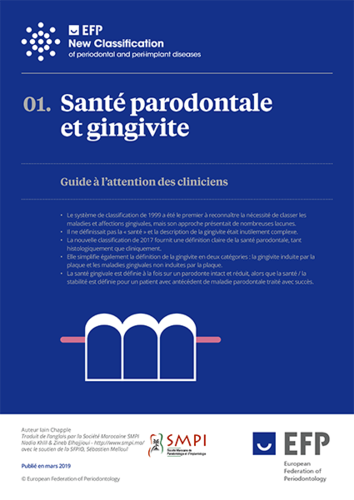 The EFP guidance notes for clinicians on the new classification of periodontal and peri-implant diseases have been translated into French and published by four of the federation's affiliated national societies of periodontology in French-speaking countries.
The Belgian, French, Moroccan, and Swiss societies of periodontology collaborated in the task of translating the five guideline documents, which cover: periodontal health; peri-implantitis (with a separate document on the clinical "decision tree" for staging and grading the disease); systemic and other periodontal conditions; and peri-implant health, peri-implant mucositis, and peri-implantitis.
The decision to translate the documents was made at the EFP's general assembly in Bern at the end of March, after Mariano Sanz – chair of the EFP workshop committee and co-ordinator of the New Classification project – presented the original English-language material.
The five documents – Santé parodontale et gingivite, Parodontities, Parodontite: arbre décisionnel clinique pour l'établissement des stades et des grades, Maladies systémiques et problèmes parodontaux, and État péri-implantaire sain, mucosite péri-implantaire et péri-implantite – can be downloaded from the website of the French society, SFPIO: https://www.sfpio.com/informations-praticiens/guides-pratiques-sur-la-nouvelle-classification.html
The translations were made by: Martin Biosse Duplan, Sébastien Melloul, Virginie Monnet-Corti, and David Nisand (France); France Lambert and Peter Garmyn (Belgium); Nadia Khlil and Zineb Elhajjioui (Morocco); and Patrick Gugerli (Switzerland).
The French and Belgian teams then collaborated on the layout so that the translated documents respected the format of the original EFP models.
"It was a great pleasure to carry out this first French-speaking collaborative work," said Virginie Monnet-Corti, EFP delegate of the French society. "The resulting document shows the high enthusiasm put in by all of us. Since their publication online these documents have been used by both our students (undergraduates and postgraduates) and by our colleagues in private practice."