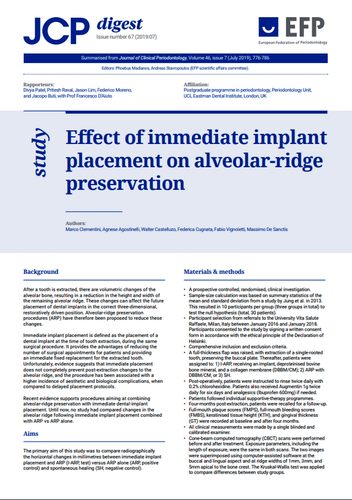 The immediate placement of dental implants combined with alveolar-ridge preservation (ARP) may be a viable option to reduce overall treatment time, according to research summarised in the latest issue of JCP Digest.
The research, summarised as JCP Digest 67, compared radiographically the horizontal changes in millimetres between immediate implant placement and ARP (test group) versus ARP alone (positive control) and spontaneous healing (negative control).
The researchers – at the University Vita-Salute San Raffaele in Milan – found that ARP techniques (with or without immediate implant placement) reduce the horizontal-bone morphological changes compared to spontaneous healing.
They concluded that immediate dental-implant placement in post-extraction sites with ARP may be a viable option to reduce hard-tissue morphological changes and treatment time.
The full research, published in the July issue of the Journal of Clinical Periodontology, was summarised for JCP Digest by postgraduate students in periodontology at UCL Eastman Dental Institute, London, UK.