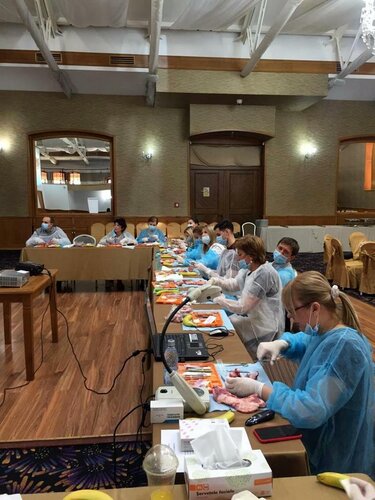 The Romanian Society of Periodontology held a conference on periodontal medicine on October 4, with main speakers from across the country and presentations from young doctors from the specialised periodontal programme at the Carol Davila University of Medicine and Pharmacy in Bucharest.
Topics covered by the main speakers were the influence of diet and smoking on periodontal inflammation (Cristina Pascasu and Mihaela Moisei), the systemic implication of periodontal disease (Petra Surlin), antibiotic therapy with specific treatment schemes (Anca Dumitriu), laser therapy and techniques such as traditional Eastern medicine, acupuncture, and bioenergetic treatment used adjunctively to non-surgical or conventional periodontal treatment (Cinel Malita), and the future of periodontology (Silvia Martu).
The case presentations from the periodontology department of the university covered gingival overgrowth as a side effect of (1) medications such immunosuppressants (Marina Giurgiu), (2) calcium channel blockers (Oana Stoica), and (3) encouraged by orthodontic treatment (Stefana Popa).
Other topics covered were the diagnosis and treatment of acute forms of periodontitis (Stana Păunică), advanced periodontal disease (Cristiana Padure), and endo-perio lesions (Brindusa Mocanu). Maria Alexandra Martu from the Grigore T. Popa University in Iasi spoke about cytokines involved in the pathogenesis of periodontitis and rheumatoid arthritis.
The general assembly of the Romanian Society of Periodontology was also held on October 4 and a new board was elected. Marina Giurgiu succeeded Anca Dumitriu as president, while Stana Păunică took over the role of general secretary from Cristina Puscasu. The new treasurer and webmaster is Stefana Popa, who replaces Dr Giurgiu, and Prof Dumitriu is the new EFP delegate, taking over from Prof Păunică.
The conference and annual meeting were preceded by a hands-on course on periodontal surgery on October 2. This course was based on explaining, demonstrating, and practising subgingival curettage with papillary flaps and gingivectomy, using additional materials and suture types. All manoeuvres were practised on pig mandibles.
The surgery part of the course was led by Anca Dumitru and the suture part by Stana Paunica. A dozen participants attended the course, which was organised for the society by Marina Giurgiu.