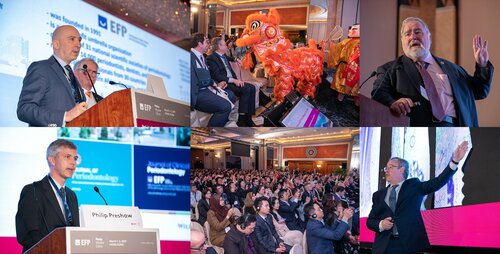 Perio Master Clinic 2019 in Hong Kong, which gathered together 550 clinicians to update their knowledge on peri-implant diseases, proved a great success.
The event, where leading clinicians explained the latest research and techniques in relation to the prevention and treatment of soft- and hard-tissue defects, was the first EFP event to be organised outside of Europe and was thus a symbol of the federation's increasingly global focus.
Clinicians from 41 countries attended, with the biggest numbers coming from China (37% of bookings), Hong Kong (12%), and Japan (7%).
"With this programme, the EFP has been proud to enhance its mission and come to Asia to partner with Asian colleagues to move forward the shared vision of bringing periodontal health to all, with a ground-breaking and exciting programme," said congress chair Maurizio Tonetti.
The two-day event, at the Harbour Grand Kowloon hotel, was created by the EFP in partnership with the Hong Kong Society of Periodontology and Implant Dentistry (HKSPID) and working with Mondial Congress & Events, the professional congress organiser that has assisted the federation with the two previous editions of Perio Master Clinic (Paris, 2013 and Malta, 2017) as well as with various editions of the EuroPerio congress.