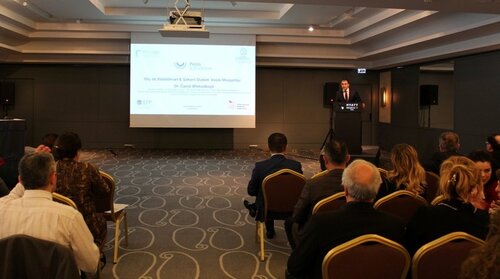 Cavid Ahmedbeyli, president of the Azerbaijani Society of Periodontology gave a lecture entitled "Periodontal disease and diabetes mellitus: key points" at the International Conference of Endocrinologists in Baku, organized by Azerbaijani Society of Endocrinology, on February 23.
His presentation was aimed at disseminating material from the Perio & Diabetes project, launched last November by the EFP in partnership with Sunstar. This project promotes awareness of the important links between periodontal diseases and diabetes and explains how these two diseases can be fought together.
During the presentation, Dr Ahmedbeyli gave detailed information to an audience of almost 250 endocrinologists about the diagnosis, treatment, and prevention of periodontal disease in diabetes patients.
Another keynote lecture was given by Antonio Ceriello, from Italy, whose was co-chair of the Perio-Diabetes Workshop in 2017, organised by the EFP and the International Diabetes Federation (IDF), which provided the scientific consensus reports on which the Perio & Diabetes is based. His lecture covered prediabetes and its management.