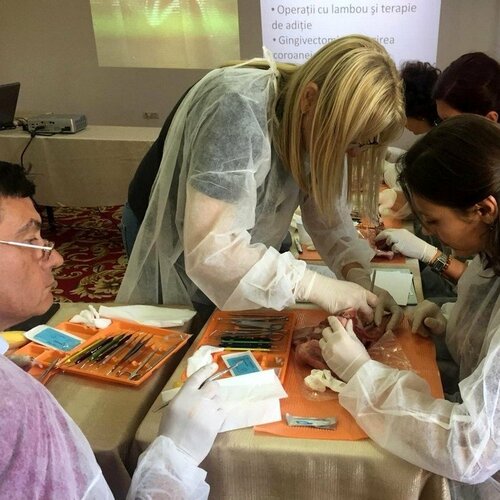 The Romanian Society of Periodontology held its XIII National Conference of Periodontology in Bucharest on October 5, where the main topics included the integration of periodontal practice into complex dental treatments.
Anca Dumitriu, president of the society and professor at the Carol Davila University of Medicine and Phramcy in Bucharest, gave a lecture entitled "Diagnostics in periodontology – a challenge for dental practices."
Other presentations included "The particularities of certain direct-splinting methods" (Cristina Puscasu), "Laser gingivectomy: a simple and effective method – case report" (Stefana Popa), and "Difficulties encountered when assessing periodontal pocket depths" (David Nicolae Brebu and Maria Mihaela Buicu).
About 150 people participated in the event, which was attended by periodontists, postgraduate periodontal students, and other dentists.
On October 3, the society held a hands-on workshop devoted to complex periodontal surgical treatment and different types of surgical techniques. The workshop was led by Prof Dumitriu, who was assisted Stana Paunica (associate professor at the Carlos Davila University and the Romanian perio society's EFP delegate), and Giurgiu Marina.
Topics covered were subgingival curettage, flap operations and grafting therapy, gingivectomy, and the lengthening of clinical crowns.
The workshop involved nine participants who performed surgical periodontal and suture techniques on a porcine mandible support, using the latest instruments and regenerative materials.