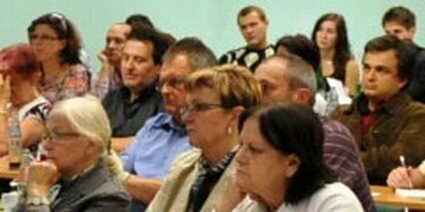 The Czech Society of Periodontology held a two-day scientific meeting on October 5 and 6 that covered various clinical topics in periodontology, with an emphasis on bone regeneration.
The "Periodontology Days in Dolní Morava" started with a presentation by Marco Ronda (Italy) on guided tissue regeneration and bone augmentation of both major and minor defects.
Dr Ronda presented various clinical cases of inserting implants, even in conditions of considerable bone loss, and discussed the advantages and disadvantages of one-step and two-step procedures. He also talked about the management of soft tissue with the aim of achieving the best possible aesthetic outcomes.
The second international lecturer was Peter Fairbairn (UK) who discussed bone regeneration materials and procedures. He presented clinical cases involving implant placement and augmentation using EthOss synthetic bone-graft material.
The first day concluded with a lecture by Martin Starosta (from Olomouc) about the new classification of periodontal diseases, comparing the differences between the new classification and the old one.
The second day of the meeting begin with a lecture from Jiří Hrkal (Kladno) on new materials and new procedures in augmentation methods, in which he discussed clinical cases and the use of the Smartbone graft material and platelet-rich fibrin (PRF) methods.
Vladimír Ščigel (Prague) discussed the role of antibiotics in periodontal treatment and the problem of growing antibiotic resistance. He said that amoxicillin was still valid in cases where the patient has no allergy to it.
Alena Večeřová (Prague) gave a presentation on the psychosomatic aspects of disease and relaxation techniques for dentists, mentioning the increasing number of cases of burnout within the profession.
The scientific meeting concluded with a lecture by Ivan Marek (Břeclav) on orthodontic therapy in cases of aggressive periodontitis, in which he described the role that can be played by the orthodontist in helping to treat this form of periodontal disease.
The Perio Days at Dolní Morava attracted nearly 130 participants, and organisers said that the event had succeeded at both the scientific and social levels. The Czech Society of Periodontology will hold its next periodontology days in Frymburk, South Bohemia, on May 24 and 25, 2019.