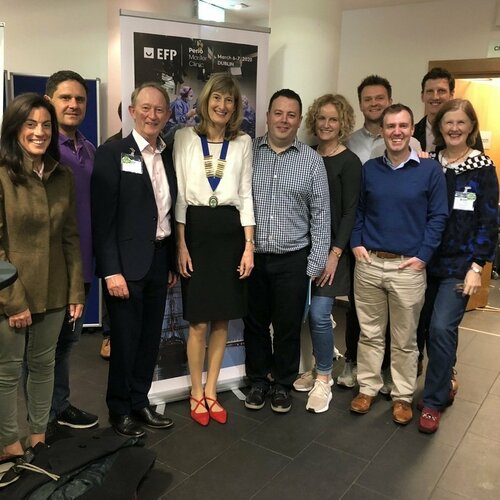 The Irish Society of Periodontology (ISP) has renewed its board, with Peter Harrison from Dublin Dental University Hospital becoming president for a three-year term of office, taking over from Ronan Allen.
Harrison is succeeded as EFP delegate by Richard Lee Kin, and the other members of the new committee are Maher Kemmoona (Treasurer) and Lewis Winning.
The committee has been structured so that there is a "champion" for each major aspect of the EFP's work – an approach that the society believes might be of interest to other smaller societies within the federation.
One of the key tasks for the committee is helping to organise Perio Master Clinic 2020, devoted to reconstruction around teeth and implants, which will take place in Dublin in March 2020. Harrison is secretary of the organising committee, chaired by Declan Corcoran.
The ISP has also decided to develop better links with its neighbours across the Irish Sea and subsidised its members' attendance at the annual meeting of the British Society of Periodontology (held in Edinburgh from October 10 to 12) rather than hold a standalone national meeting in Ireland.
"We have long encouraged our members to attend partner society meetings but, as part of our plan to enhance links with BSP, we will develop a recurring plan to support attendance by our members at specified BSP events," said Harrison.
Other key strategic aims of the Irish Society of Periodontology include enhancing the interaction of the society with other specialist groups and general dental practitioners and developing educational and practice resources for members and allied dental professionals.
The society has appointed a committee member with responsibility for disseminating the outcomes of the EFP's Perio Workshops and has also worked to increase its web and social-media presence.
As a smaller society – with 35 members – the Irish Society of Periodontology decided that it made sense to have three-year terms of office rather than shorter periods. This means that all committee members will serve for the next three years, taking the society through until after EuroPerio10 in Copenhagen in June 2021.
"I'm excited to have a vibrant and hard-working committee of young ISP members to drive our society forward over the next three years," said Harrison. "The ISP is proud to be an EFP member society, and we look forward to welcoming our colleagues from across Europe – and around the world – to Dublin in 2020."