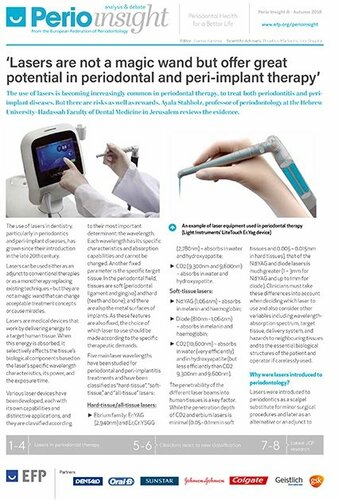 The new edition of Perio Insight, the EFP magazine devoted to periodontal science and clinical practice, offers an in-depth analysis of the use of lasers in periodontal and peri-implant therapy.
The article, written by Ayala Stabholz, discusses the evolution of the use of lasers in the periodontal clinic and the different types of device that are available.
While stating that laser treatment does not represent a "magic wand", Prof Stabholz shows how they can be used both as adjuncts to conventional therapies and as therapies in their own right.
She discusses how lasers were first introduced as alternatives to the use of the scalpel for minor surgical procedures and were then extended as a replacement for or adjunct to non-surgical treatments. The article explains the different wavelengths used by lasers and which ones are appropriate to use with soft and hard tissues.
Stabholz, associate professor at the department of periodontology of the Hebrew University-Hadassah Faculty of Dental Medicine in Jerusalem (Israel), concludes that "it remains impossible to draw final conclusions or recommendations" from the many published studies because of the variety of laser devices utilised, the different parameters assigned, and the lack of long-term clinical studies.
"At present, there is no consensus on the optimal parameters for specific laser devices for specific applications," she writes, adding that "more evidence-based studies are needed to recommend the integration of this technology into our treatments."
The Autumn 2018 edition of Perio Insight also features an article in which periodontal clinicians from across Europe give their reactions to the new classification of periodontal diseases and conditions which was launched at EuroPerio9 in June.
In addition, the issue features two pages of summaries of research published in recent editions of the EFP's Journal of Clinical Periodontology.
"Laser is an innovative technology that has a distinct place in the treatment of periodontal diseases, mainly used as an adjunct to conventional treatment," said Joanna Kamma, editor of Perio Insight. "Ayala Stabholz has given us a weighted report on the favourable outcome of laser-assisted therapy while awaiting the RCTs that will reach the desired evidence."