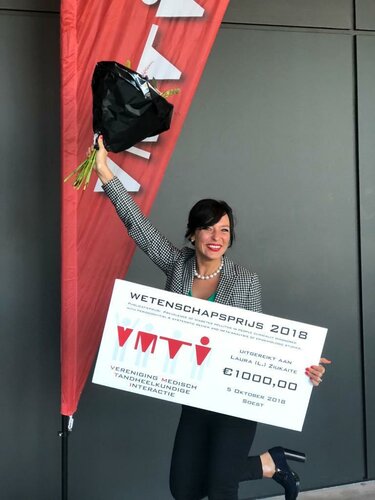 A researcher at the Academic Centre for Dentistry Amsterdam (ACTA), and alumna of the university's EFP-accredited postgraduate programme in periodontology, has been awarded a prize for a paper about the prevalence of diabetes in people with periodontitis.
Laura Ziukaite, an ACTA PhD student, received the Best Publication of 2018 prize from the Dutch Society of Dental-Medical Interactions (VMTI) on October 5 for the paper "Prevalence of diabetes mellitus in people clinically diagnosed with periodontitis: A systematic review and meta-analysis of epidemiologic studies," of which she was lead author.
This paper, whose other authors were Dagmar Else Slot and Fridus Van der Weijden (both researchers and educators at ACTA), was published in the EFP's scientific journal the Journal of Clinical Periodontology (JCP) in its June 2018 edition. The paper was prepared as a part of the obligation of the first author to fulfil the requirements of the ACTA master's programme in periodontology and implant dentistry
This systematic review included 27 pieces of research that met its criteria and concluded that the overall prevalence and odds of having diabetes are higher within periodontitis populations compared to people without periodontitis. The overall odds ratio was 2.7 (95% CI [1.90;2.72]).
The prize-winning paper also found that self‐reported diabetes underestimates the prevalence compared to when the condition is assessed clinically. It also noted that studies underestimated the prevalence of diabetes among people without periodontitis when compared to national mean prevalence as reported by the World Health Organization, which had the effect of inflating the observed risk.
In addition, the research found that there were geographical differences, with the highest diabetes prevalence among subjects with periodontitis observed in studies conducted in Asia and the lowest in studies carried out in Europe.
"Thomas A. Edison once said that there is no substitute for hard work, and from all my PhD scientific work done so far, no other publication deserves this quote more than the JCP," said Laura Ziukaite. "Meticulous, analytical, and sometimes stringent questions or remarks from the JCP helped to improve this publication to become how it reads today."
Prof van der Weijden said: "A paper like this needs perseverance from the author during the review process. Laura is exceptional in this respect."
Dr Slot commented: "We are very proud and would like to thank the JCP for making this publication possible."
Maurizio Tonetti, editor of the Journal of Clinical Periodontology, added: "This is an interesting and timely research synthesis that helps fill relevant gaps about the diabetes/periodontitis comorbidity and need for comanagement of the two diseases."