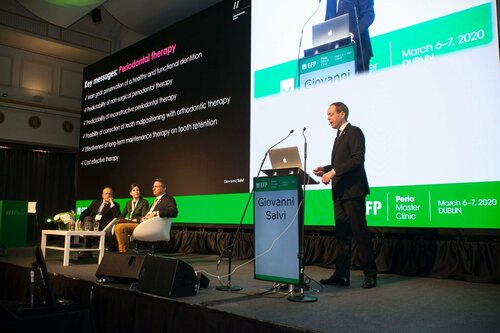 The EFP is making the recorded content from Perio Master Clinic 2020, held in Dublin on March 6 and 7, available for purchase and unlimited use until the end of June, extending the period of this offer which had been due to end on May 31.
In this way, clinicians can update their knowledge of current and future challenges in soft- and hard-tissue aesthetic reconstruction around teeth and implants while they are at home.
The recordings of the full conference are available for purchase until June 30 for a fee of €250. There are 45 lectures from 36 speakers, amounting to more than 15 hours of educational content.
A certificate for continuing medical education can be downloaded after watching the recorded sessions.
The initiative of making this material available for home study is part of the EFP's commitment to providing enhanced educational material during this period of Covid-19 confinement.
Perio Master Clinic 2020 took place at the Royal Dublin Society on March 6 and 7 and topics covered included management of flap design, the correct procedures for single- and multiple-tooth gingival recessions, techniques for lateral and vertical bone augmentation, and the choice of the optimal bone graft.
There were also two interactive sessions: a case presentation on reconstructive surgery versus extraction and implant placement, and a session on managing complications after reconstructive surgery.