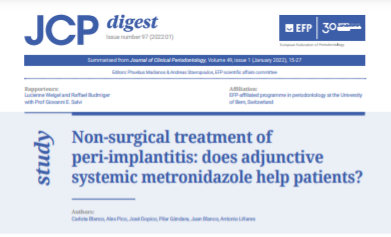 One problem commonly faced by periodontists is that non-surgical therapy alone is often not effective in controlling a significant proportion of cases of peri-implantitis.
While systemic antibiotics have indicted additional benefits when used as an adjunct to non-surgical peri-implantitis therapy, there had been no randomised clinical trials to assess this benefit.
Such a clinical trial – now summarised as JCP Digest 97 – was performed by researchers at the University of Santiago de Compostela in Spain, who evaluated the effect of the adjunctive application of systemic metronidazole.
Twelve-month results from this triple-blind, randomised, placebo-controlled clinical trial of patients requiring non-surgical treatment of peri-implantitis showed that treatment success was achieved in more patients and in more implants in subjects who received metronidazole than in those who received the placebo.
Researchers cautioned that, because of the increase in antibiotic resistance, the adjunctive use of systemic metronidazole for the non-surgical management of peri-implantitis "should be carefully considered in daily practice on a case-by-case basis."
The research was summarised for JCP Digest by postgraduate students at the EFP-accredited programme in periodontology at the University of Bern in Switzerland.