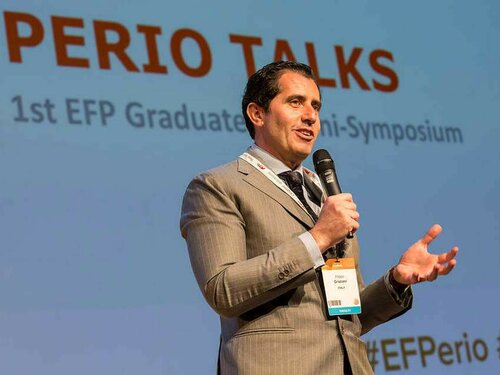 The debut event of the EFP Alumni project – the Perio Talks session and special reception on the first day of EuroPerio9 – proved to be a great success.
Close to a thousand people witnessed eight young periodontists give short and lively presentations on what inspired their professional careers. Topics ranged from the "adventure" of an academic career in periodontology to the robotics and the future of dentistry.
This session, open to all, was followed by a meeting and reception for members of EFP Alumni, during which the project's board was formally constituted.
"The Perio Talks session went really well, and everybody was really satisfied," said Filippo Graziani, EFP president-elect and co-ordinator of EFP Alumni. "A lot of people within the EFP were really happy that we did this event."
All alumni received a tie (men) or scarf (women) with the EFF Alumni logo, and many were seen wearing these during the rest of the congress. "People really felt that they were part of a community," said Prof Graziani.
However, he added that while the level of the Perio Talks presentations had been very high – "one of two of them really left us speechless" – having eight talks in a row was "too much" and that this would be taken into consideration when planning similar events in the future.
'Strengthening sense of community'
At the symposium, the two alumni members of the EFP Alumni board were elected: Bruno De Carvalho, from Portugal, who graduated from the University of Liège (Belgium) in 2017, and Myroslav Solonko, from Ukraine, who graduated from the Complutense University of Madrid (Spain) this year.
They will remain members of the committee until EuroPerio10 (Copenhagen, 2021), joining Graziani, chair of the postgraduate education committee Moshe Goldstein, and the elected member of the executive committee during his or her second year (Xavier Struillou until April 2019, followed by Lior Shapira).
The committee's first job is to write the formal remit for EFP Alumni which, as Graziani points out, "is about more than just getting together every three years at EuroPerio."
The aim is to develop a strategy that supports alumni and helps them in their careers while strengthening the sense of community among graduates of the EFP accredited postgraduate programmes.
EFP Alumni is open to graduates of the 16 EFP-accredited postgraduate programmes in periodontology, past or present teachers of those programmes, and members of the current or a previous EFP executive committee.
There are now 343 registered members of EFP Alumni, comprising 221 graduates, 96 teachers, and 26 executive-committee members.
About 100 students are listed in the separate register of current students. Within the next few weeks the chairs of the programmes will inform Prof Goldstein of those who have graduated, and they will be moved to the Alumni register. Each year, the postgraduate programmes will provide another 50 to 70 alumni.
"EFP Alumni is a project that is at the heart of the EFP," said Graziani. "This is a community of all those who have devoted a significant part of their life to getting an EFP-accredited diploma, so this is something that we need to support and endorse."