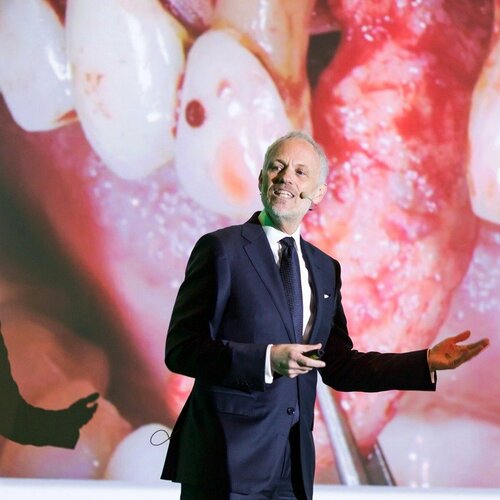 More than 500 participants from 14 countries attended the 29th annual meeting of the Israeli Society of Periodontology and Osseointegration (ISPO), which took place in Tel Aviv on January 29 and 30 under the heading "Growing with science toward a better practice."
International participants included the presidents of EFP-affiliated societies of periodontology of Belgium, Croatia, Georgia, Norway, and Ukraine, among others.
The meeting featured presentations from leading international speakers that covered many aspects of periodontology and implant dentistry, including soft- and hard-tissue management, biomaterials, L-PRF (leukocyte- and platelet-rich fibrin), peri-implantitis therapy, and aesthetic issues.
The congress, chaired by Yaniv Mayer, the society's new president, featured lectures from Frank Schwarz, Eli Machtei, and Dr. Giano Ricci who emphasised, based on their own experience, the importance of saving teeth and the obstacles that periodontal professionals face with peri-implant diseases.
Marc Quirynen and Richard Miron conducted a special in-depth session dealing with the use of L-PRF in periodontology, while the use of mesenchymal stem cells and shockwaves was the topic addressed by Hadar Zigdon and Shlomo Via.
Darko Bozic, Rino Burkhardt, and Dr. Sebaoun discussed new soft-tissue techniques and technologies, and Tiziano Testori and Giano Ricci offered a presentation focused on the aesthetic aspects of periodontal therapy.
Orly Nir Shapira presented a position paper dealing with the adjunctive treatment for periodontal therapy. This paper was the result of work over a year by a special committee of periodontal specialists.
Workshops
The day before the meeting, Rino Burkhardt led a workshop on microsurgical techniques in which participants enjoyed using high-end microscopes, which had been brought from abroad especially for the workshop.
Alongside the meeting, there were six hands-on workshops run by world-class specialists, which covered topics including new technologies and techniques in bone regeneration, soft-tissue management, and implant design.
A special workshop ­– Vertical GBR [guided bone regeneration]: management of the most severe cases – was conducted by Isabella Rocchietta, limited to residents of the four periodontal departments at universities in Israel. Dr Rocchietta showed both the theoretical and practical aspects of the technique.
The meeting also honoured Aubrey Soskolne and Haim Tal for their "significant contribution over the years to the development of periodontology in Israel and worldwide."
In addition, there was an interactive session for the residents of the periodontology departments, a gala dinner, and a rock concert. ISPO also released a short video with highlights of the symposium, which can be viewed at: https://www.youtube.com/watch?v=YWVvF7GJC9s