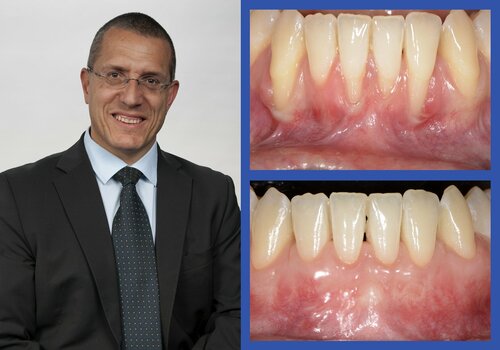 On Tuesday 14 April, Anton Sculean gave the first EFP Perio Sessions live webinar, focusing on the "Bernese" concept of treatment of single and multiple gingival recessions.
Using both clinical cases and surgical videos, Prof Sculean explained the biologic rationale and treatment philosophy behind two techniques for soft-tissue reconstruction in different clinical scenarios. He showed how both the modified coronally advanced tunnel (MCAT) and the more recently developed laterally closed tunnel (LCT) techniques were predictable surgical approaches for recession coverage at single and multiple mandibular recessions.
He also demonstrated that the use of biologic materials – such as enamel matrix derivative (EMD) and hyaluronic acid (HA) – may have a positive effect on wound healing. In addition, he emphasised the "critical importance" of the interdisciplinary approach involving the periodontist and the orthodontist.
"I felt honoured when EFP president Dr. Xavier Struillou called and asked me to deliver the first webinar for the EFP," commented Prof Sculean after the presentation. "Giving a lecture to a huge audience, while being at the same time alone in my room in front of my computer without seeing any faces, was a unique experience. Trying to compress a treatment philosophy that was developed over 12 years in only 30 minutes while giving clear messages to the audience was inspiring – but also very challenging."
He added that "this unique initiative by the EFP is a wonderful support provided for our member societies in this difficult period we are all facing. I am convinced that this initiative will further forge the unity and strength of our EFP family."
Recently awarded the 2020 International Association for Dental Research (IADR) Distinguished Scientist Award for Research in Periodontal Disease, Anton Sculean is professor and chair of the Department of Periodontology and executive director of the School of Dental Medicine at the University of Bern.

EFP secretary general Nicola West, who hosted and moderated the webinar, praised a "fantastic, flawless presentation" which she said had been "inspirational".
She added that the EFP Perio Sessions, were "a new concept for the EFP, delivering live interactive webinars with a plethora of our top experts on cutting-edge periodontal and dental implant topics, promoting education and awareness of periodontal science, supporting the EFP's guiding vision of periodontal health for a better life."

Access to the live webinar was limited to 1,000 people and registration was fully booked within only five hours. A recording of the webinar has been published on the EFP's YouTube channel.