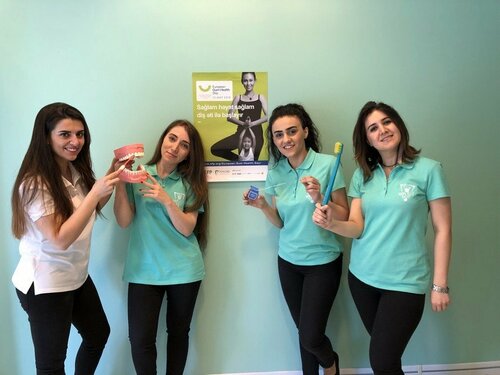 For European Gum Health Day 2018, the Azerbaijani Society of Periodontology organised seminars and free periodontal screenings, sharing event information via social media and sending out posters to its members. It also issued a press release on the importance of early diagnosis and treatment of periodontal disease.
Between May 1 and 12, members of the society's board and most of its general members conducted free periodontal screenings, involving a total of 110 patients, in different regions of Azerbaijan and provided information about the importance of periodontal disease, including prevention and treatment recommendations.
On May 3, Prof Mahir Aliyev, Dr Rahim Garayev, and Dr Cavid Ahmedbeyli (president of the Azerbaijani Society of Periodontology) gave a full-day seminar on the prevention, early diagnosis, and treatment of periodontal diseases to dentists in continuing-education programmes in periodontology at the Department of Stomatology and Maxillofacial Surgery of the Azerbaijan State Advanced Training Institute for Doctors.​
On May 10, Dr Ramiz Ahmedbeyli and Dr Aslan Mammadov (the society's vice-president and EFP delegate) gave seminars on current approaches in the treatment of periodontal disease to undergraduate and postgraduate dental students at Azerbaijan Medical University Dental School.​
On May 7, Dr Nubar Mammadova held a workshop, supported by Curaprox Azerbaijan, on healthy gums and oral hygiene at a kindergarten in Baku, during which 25 children were given information about oral health and hygiene. Their parents were also informed about problems in the oral cavity and the necessary treatments.​
On May 16, Dr Cavid Ahmedbeyli gave a lecture entitled "Gum health and key elements in periodontal plastic surgery for the treatment of gingival recessions" in St Petersburg in Russia. The event, organised by the Russian Society of Periodontology and the Pavlov St Petersburg State Medical University, was dedicated to "European Gum Health Day and selected issues in periodontology."
The Azerbaijani Society of Periodontology thanked its members, its event co-ordinator Aslan Mammadov, government organisations, dental companies, and the media for their participation in European Gum Health Day 2018 and for "joining us in fighting dental & periodontal disease together."