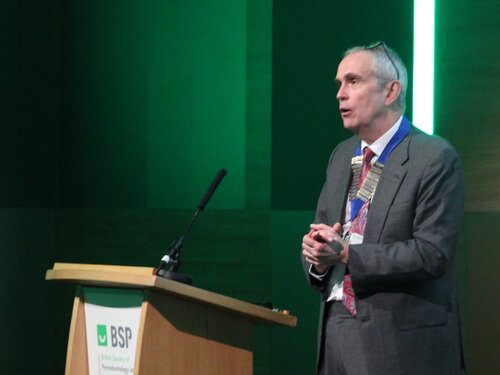 The British Society of Periodontology and Implant Dentistry (BSP) proudly concluded its Annual Conference, themed « Teams - Working together for success » which took place from 11 to 13 October 2023, in Birmingham. The event, hosted by BSP President Prof. Mike Milward, brought together periodontal professionals and researchers to explore the vital role of teamwork in achieving the best outcomes for patients.
BSP President, Prof. Mike Milward, expressed his enthusiasm, saying, "I am honored to have been elected President of BSP for 2023 and to be able to work with colleagues to deliver an Annual Conference that engaged all members of the oral healthcare community. The focus on teamwork was based on my strong belief that we need to work closely together with a common goal in order to deliver the best treatment outcomes for our patients."
The Conference kicked off with a collaboration between BSP and The British Society for Oral and Dental Research(BSODR) to support early career researchers, offering them a platform to develop their careers and contribute to future patient-focused research. The prestigious Sir Wilfred Fish Research Prize was awarded, with the winner, Niamh Coffey, earning the opportunity to present their research in the main Conference.
Throughout the event, attendees had the privilege of hearing from inspiring speakers, including Perry McCarthy, the former Formula 1 driver and "The Stig" from BBC's Top Gear. McCarthy's keynote address emphasised the vital importance of teamwork and collaboration, drawing parallels between the world of motorsport and the field of periodontology.
The Conference covered a wide range of topics, from patient perspectives and contemporary patient management to interprofessional collaboration and the future of periodontal care. A special highlight was the Conference Dinner, held at The Book Rotunda in Birmingham Library, where attendees enjoyed a captivating talk by English historian, Professor Carl Chinn MBE. The evening culminated with lively music from a live band, making it a memorable night for all.
The BSP Conference 2023 provided valuable insights and inspiration for the entire oral healthcare community, reinforcing the importance of working together for success.
For more details about the conference programme and future BSP events, please visit the BSP events calendar.