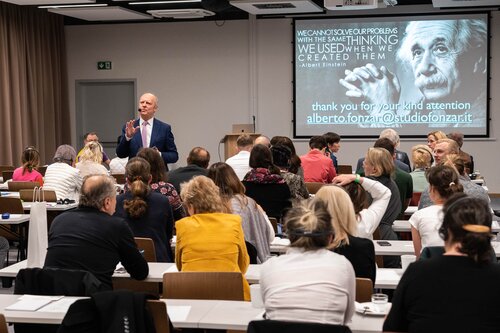 The Czech Perio Society recently concluded its spring periodontal conference, held from May 19th to May 20th, 2023 in Lipno nad Vltavou. The event served as a platform for periodontologists and dentists to discuss the latest advancements in the field of periodontology. This year's conference featured esteemed speakers who shed light on various aspects of periodontal care, including soft tissue management, laser-assisted surgeries, gingival recession, oral medicine, periodontal news, and the complications associated with bisphosphonates therapy.
Dr Alberto Fonzar from Udine, Italy, delivered a captivating lecture on "The management of the soft tissues around teeth and implants." Fonzar emphasised the importance of considering biological principles when performing augmentation procedures. He highlighted the differences between treating periodontitis and peri-implantitis, noting the lower resistance of implants due to the absence of the periodontal ligament. Fonzar advocated for a less invasive surgical approach and recommended the use of smaller diameter implants to preserve bone and soft tissues, promoting better vascular supply.
"Periodontology without a knife," was the topic presented by Dr Pavel Poleník from Pilsen. He advocated for the use of lasers in mucogingival and soft tissue surgeries. Poleník highlighted the benefits of "gentle" approaches: reduced post-surgery sensitivity and improved long-term stability. Furthermore, he discussed the regenerative potential of lasers in bone augmentation procedures. Poleník also explored the specific applications and indications for diode and erbium lasers.
Dr Jan Streblov from Prague shared insights on "The coverage of gingival recession around implants and teeth, and peri-implantitis therapy." Streblov classified gingival recession based on the cemento-epithelial junction, providing various techniques for covering exposed root surfaces. He showcased the laterally positioned flap and preferred the tunnelling method. Additionally, he introduced the enveloping procedure, involving the insertion of a mesenchymal graft beneath the papilla tissue. Streblov concluded his lecture by discussing conservative and surgical approaches to treating peri-implantitis.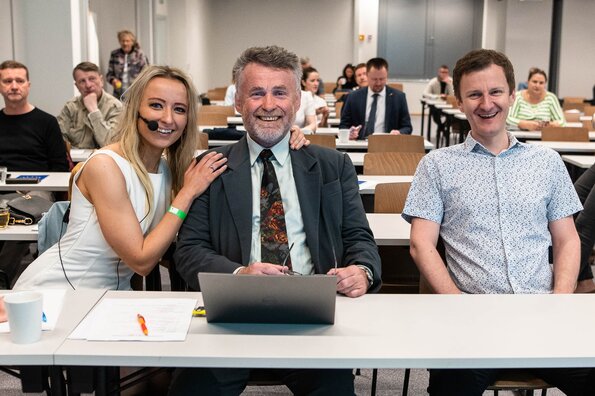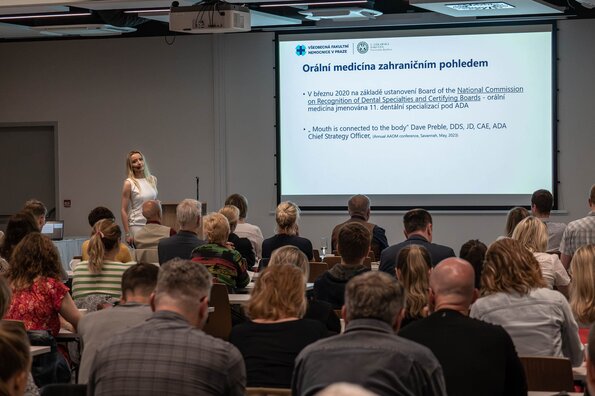 Also from Prague, Dr Markéta Janovská delivered a presentation on "Oral cavity mucosal diseases and oral medicine in the U.S.A." She emphasised the importance of distinguishing between normal, variable, and pathological conditions of the oral mucosa, particularly in relation to general illnesses such as nonspecific intestinal inflammation.
"News in periodontology" was shared by Dr Ladislav Korábek, from Prague. He focused on the significance of oral microbiota and offered treatment guidelines for various stages of periodontitis. Korábek also discussed local applications, including the use of gels containing statins and metformin. He stressed the importance of dental hygienists as integral members of the dental team.
Dr Lukáš Hauer, from Pilsen, spoke about "The complications with diagnosis and therapy of patients using bisphosphonates in dentistry." Hauer highlighted the challenges faced by patients undergoing long-term bisphosphonate therapy, particularly after dental extractions and oral surgeries. He emphasised the negative effects of radiotherapy on the head and neck region and discussed cases of precancerous conditions and cancer findings. Hauer stressed the importance of comprehensive medical knowledge and histopathology examinations in managing these situations.
The next Czech perio days are scheduled to take place in Znojmo from October 20th to October 21st, 2023.