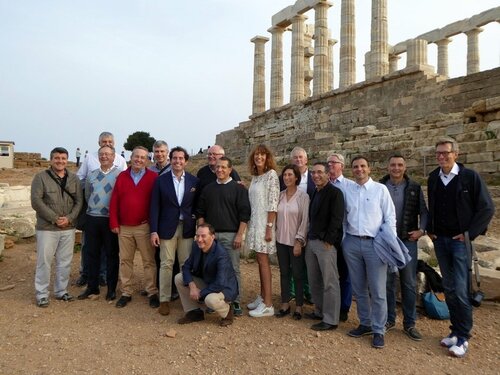 The half-yearly meeting of the EFP's executive committee, which took place in Cape Sounio, near Athens (Greece) from October 18 to 20, agreed some key measures on the future of the federation which will be presented to its general assembly in March 2019.
The number of EFP member societies is set to increase, as the executive committee will recommend to the assembly that the Georgian Society of Periodontology become the latest associate member.
In addition, it is expected that several societies will join at the general assembly in the new category of international associate member. Those interested and in advanced discussions with the EFP are the societies of Brazil, Lebanon, Mexico, and Taiwan.
In terms of projects, the committee gave the go-ahead to the preparation of a "toolkit" on the new classification of periodontal and peri-implant diseases and conditions, acknowledging that each nation will need to implement the classification in a manner that suits its own health-service model.
This toolkit will comprise a dedicated website with a range of written and audiovisual content specially developed to communicate the details of the new classification in a way that is clear, attractive, and accessible.
The meeting also approved plans for the next "partner project" – an outreach campaign called "Oral health for a lifetime" which integrates EFP president Anton Sculean's vision of oral fitness among older people and which will be sponsored by GlaxoSmithKline.
The meeting also confirmed that the Perio& Cardio Workshop, organised in partnership with the World Heart Federation, will take place in Madrid on February 18 and 19, 2019.
A new chair for the Workshop committee was proposed and the executive committee will recommend to the general assembly that David Herrera succeed Mariano Sanz in this role. Like Prof Sanz, Prof Herrera, who is scientific chair of EuroPerio10, teaches at Madrid's Complutense University. Prof Herrera was the only nomination but he was deemed by the executive committee to be eminently suitable, and he will have local support from Prof Sanz.
"This was a very important and challenging meeting, where we discussed the terms for international associate members, the dissemination of the classification system and also the future of the Journal of Clinical Periodontology…among many other issues," said EFP secretary general Iain Chapple.
"We made excellent progress and the GA in Bern will be very important, and as my last GA as secretary general, I hope a very successful and rewarding one."
The 2019 EFP general assembly takes place in Bern, Switzerland, on March 30, 2019.