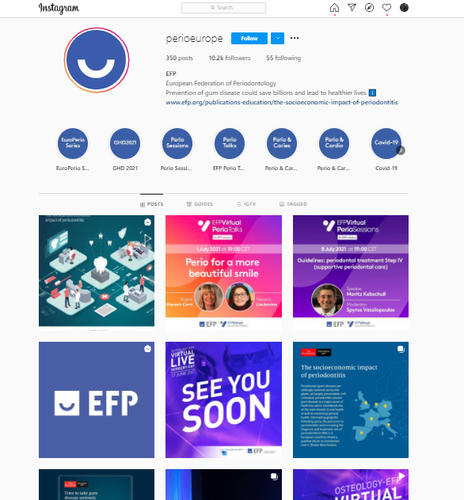 The EFP's page on the Instagram social-media platform now has more than 10,000 subscribers, having grown by 70 percent over the last year.
At the end of June 2021, there were 10,200 followers of the EFP's Instagram page (@perioeurope), compared to 5,950 at the end of June 2020. The EFP has been using Instagram since 2018 to communicate its news, forthcoming events, campaigns, and other initiatives.
One key development that has spurred growth over recent months has been the launch of Perio Talks, live sessions on Instagram where two experts discuss a hot topic in periodontal clinical practice.
And the EFP has also used Instagram to provide live coverage of events, such as the frequent posting by Bruno De Carvalho on the content of the recent "kick-off" event for the EuroPerio Series of interactive online educational events. This is a new way to communicate and engage with the people who follow the EFP on Instagram.
Recent posts that have proved popular have included those related to the EuroPerio Series, the Live Surgery Day with the Osteology Foundation, the Economist report on the socioeconomic impact of periodontitis, and the animated videos produced by the EFP for Gum Health Day 2021.
"This milestone is part of our digital transformation," said Cândice Gasperin, the EFP's head of communications. "We are exploring new possibilities and new ways of bringing relevant information to our followers and engaging with them.
"Across all our social-media platforms, the EFP promotes awareness of periodontal science and the importance of gum health by providing high-level content for both dental professionals and patients who want to learn more about gum disease and its treatment and about our campaigns and initiatives."