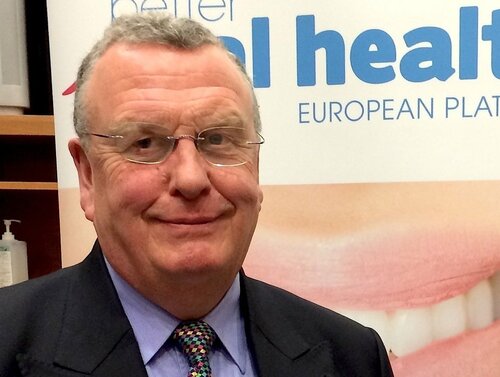 The role of national societies in improving the field for periodontology professionals will rarely take on more importance than in the current drive for official EU recognition of periodontology as a specialty.
Although the road is long, the EFP is well on track in its campaign to achieve European Commission legislation giving periodontology the same status as, for example, orthodontics and oral surgery. The process involves negotiations in all European states, whose support for the project is crucial when it comes to convincing the EU's key decision-making body.
Official recognition as a specialty would not just free periodontists from bureacratic nightmares by enabling greater professional mobility. It would also boost exchange of knowledge, increase graduate applications, aid training, and increase access for patients, among other benefits.
"Periodontology has good chances of achieving automatic recognition at the EU level but this will not happen automatically," points out Professor Nairn Wilson, the EFP Strategic Planning Executive leading the pan-European advocacy campaign to recognise periodontology at the EU level.
"It is important to stress that although the European Commission has the power to draft a legislative act to grant automatic recognition to a medical specialty, it rarely does so without ensuring that the overwhelming majority of EU countries are in favour of such legislation," stressed Prof. Wilson.
"The EFP, in many instances, relies on its national societies to brief, educate and convince national policy makers to achieve automatic recognition at the European level. In this regard, I would like to thank all national delegates who have already contributed to our advocacy campaign and encourage the others to contact me and see how we can work together," he added.
In building momentum for the campaign Prof. Wilson, Honorary Professor of Dentistry and former Dean and Head of King's College London Dental Institute (2001-2010), is meeting with competent national authorities to sound out whether they will promote or agree to remain neutral on specialty recognition.
Prof. Wilson revealed that work is advancing with a crucial meeting this September with the German Society of Periodontology, and it is hoped this EFP national member, so influential in EU machinery, will add its weight to the several countries already in support, which include Romania, Sweden, Portugal, Spain, and the UK.
The Spanish Society of Periodontology (SEPA) has called for meetings with the Spanish Ministry of Health and with University policy makers in order to express its support for recognition. SEPA President Dr. David Herrera said he expects these meetings to go ahead towards the end of 2014.
What will change for the 'specialty' of periodontology once it achieves this recognition?
"EU recognition is an important step for the specialty as it means that we will finally be on an equal footing with other specialties. Secondly, it will ease the professional mobility of periodontologists across 12 EU countries, which already recognise this specialty (Croatia, Belgium, Bulgaria, Hungary, Latvia, Lithuania, Poland, Portugal, Romania, Slovenia, Sweden and the UK)," stated Prof. Wilson.
"From then on it will only be required to send a copy of the diploma and certificate of conformity to relevant authorities before being able to start practising. Periodontologists will no longer have to send an application and wait for months for a positive response from relevant authorities in a host country. Nor will they be obliged to take a test or complete an adaptation period to prove their qualification," he explained.
Benefits are not limited to bureaucratic concerns.
"This development is likely to boost cross-border education and exchange of best practices as well as attract more dentistry graduates to specialise in periodontology. The increasing cross-border co-operation and exchange will further facilitate harmonisation of teaching, training and continuing professional development," points out Prof. Wilson.

"In the long run, patients will benefit from an easier access to specialist care and the impact of untreated severe periodontal diseases on the national healthcare system is likely to be reduced," he continued.
Prof. Wilson points out, however, that national situations in periodontology are not overturned by EU recognition. "Achieving automatic recognition at the EU level does not oblige countries which do not presently recognise periodontology to recognise it. EU member states also have the right to opt out from the EU scheme for mutual recognition if they wish to."
"We will of course keep all EFP members informed about the outcome of the meeting and the strategy moving forward," concluded Prof. Wilson.
The EFP's defining document on "seeking a specialty", by Prof. Mariano Sanz, is available by clicking here.