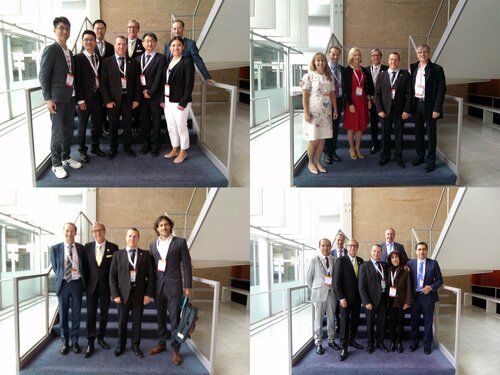 There is considerable interest among non-European national societies of periodontology in joining the EFP through its new category of international associate member.
Among the societies that have expressed interest are those of Australia, Brazil, Japan, Mexico, and Taiwan.
EFP president Anton Sculean led various meetings with international societies during EuroPerio9 in Amsterdam in June to explore closer collaboration with the EFP, including taking up this new form of membership.
The new category of international associate member is open to periodontal societies from countries outside of Europe (as defined by the World Health Organization) if they meet four criteria:
The society must have been active for at least three years before applying for membership;
It must have clear written by-laws that contain inclusion criteria for membership, the system for board elections, etc.
The society must show that it is the only, the major, or the most representative society of its country's periodontal community;
It needs to demonstrate that it has organised periodontal congresses with internationally renowned speakers, with a minimum of one every three years.
Although they will not be able to vote at the EFP general assembly, the international associate members will enjoy many of the same benefits as the EFP's European full and associate members. These may include a special subscription price to the EFP's official scientific publication the Journal of Clinical Periodontology (JCP), reduced participation fees at the EuroPerio congresses and other events organised by the EFP, and access to EFP publications and the materials produced by the EFP partner projects for national use and translation.
The EFP will consider the applications of countries that wish to join and how best to engage with multiple countries at the meeting of its executive committee in Athens in October.
It is expected that, if all goes well, the first international associate members will be welcomed into the EFP family at the next general assembly, to be held in Bern in March 2019.
"This is definitely a very exciting new phase in the development, visibility, and global influence of the federation," said Anton Sculean, EFP president. "It offers a unique opportunity to disseminate all the knowledge and information related to the prevention and treatment of periodontal and peri-implant diseases and to spread the EFP philosophy on a global scale."
EFP secretary general Iain Chapple added: "The enthusiasm and desire to be associated with the EFP was incredible at EuroPerio9. We had multiple meetings with multiple societies from all over the globe who were all desperately keen to become part of the EFP family. We believe in being inclusive and will be working hard to find a way of achieving this and ensuring we can support international associate members as an integral part of the EFP".