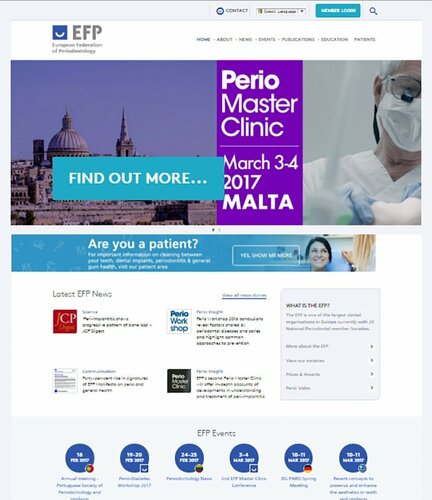 The patient section of the EFP website is proving to be highly popular accounting for nearly a quarter of all visits and more than 50,000 hours of viewing during 2016.
Articles about dental implants, "What is periodontitis?", and "Healthy gums?" were among the 10 most-viewed pages of the EFP's website.
The section for patients also features the informative EFP-backed documentary video The Sound of Periodontitis, which gives the patient perspective on periodontal disease and treatment for it.
Other popular parts of the website included the area devoted to the forthcoming Perio Master Clinic 2017, the sections devoted to EuroPerio, education, and news, as well as the members' area including the Journal of Periodontology, the EFP's prestigious scientific publication.
Among the most popular individual items on the website, which was relaunched with a new look in April 2016, were a 'Perio Insight' debate about the use of antibiotics to treat periodontitis, a news story about EFP guidance on interdental cleaning, and a report about research showing that full-mouth periodontal therapy triggers an increase in inflammatory biomarkers.
The triennial EuroPerio congresses always provides a huge boost to the number of visitors to the website – and this happened with EuroPerio8, held in London in June 2015 – making it difficult to compare year-on-year performance. But Google Analytics data show that the number of unique page views in the last quarter of 2016 was 34% above that of the previous year, demonstrating that the underlying trend is in a strongly upwards direction.
"As a federation of 29 national periodontal societies spread across all of Europe, and beyond, the web is the main channel for us to keep in touch with one another," added Tiernan O'Brien, chair of the communications committee.
"For this reason, the EFP website is the beating heart of the federation. It is there for the EFP to communicate with its members and for them to provide feedback to the EFP. It provides a platform for the EFP to express itself and for stakeholders to come and visit and see what it is that the EFP does.
"Keeping the website vibrant and relevant is one of the main aims of the communications committee and I am delighted to see that year on year it continues to be increasingly used as a resource of the EFP."