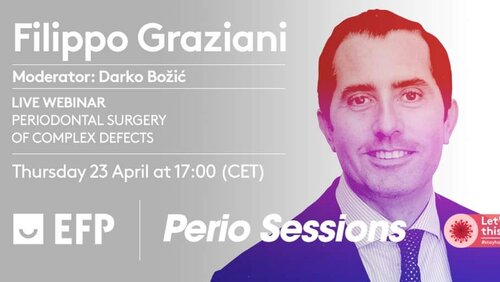 The second EFP Perio Sessions live webinar on April 23 was a great success with participants from 84 different countries watching and listening to Filippo Graziani's presentation on periodontal surgery of complex defects.
Around 700 people took part in the live webinar, which focused on the rationale and the techniques available to perform periodontal surgery on teeth with periodontal defects that are associated with a poor prognosis.
Prof Graziani, EFP president 2019-20 and professor of periodontology at the University of Pisa in Italy, highlighted regenerative techniques that have improved the prognosis for severely compromised teeth and improved tooth survival.
However, he noted that periodontal regenerative surgery had focused largely on intrabony defects, which represent the minority of periodontal defects. Clinicians are more often faced with horizontal suprabony defects, dehiscence, and endo-periapical and furcation defects, which are more complex to treat.
He explained the available clinical evidence on these complex periodontal defects and gave some clinical suggestions for their management.
His main conclusions were:
Regenerative surgery of any periodontal defect is superior to open surgical debridement alone (intrabony, suprabony, and furcations).
Even in complex defects there is always a rationale to aim at performing reconstruction and regeneration.
The adoption of minimally invasive concepts and appropriate material selection are key issues in managing complex defects.
The session was moderated by Darko Božić (EFP communications committee, president of the Croatian Society of Periodontology), who thanked Prof Graziani for "beautiful, entertaining, informative, and knowledgeable lecture."
Questions asked by participants concerned topics including the use of alloplastic materials, suturing papillae-preservation flaps, when to raise the palatal flap, what approach to adopt when there is a lack of keratinised tissue, when to repeat non-surgical therapy, and how long to wait after non-surgical therapy before proceeding to surgery.
Speaking after the event, Prof Graziani said: "It is a privilege to support our community in these difficult times. The EFP is present."
YouTube playlist of webinars
The recording of the webinar will soon be available for viewing on the EFP's YouTube channel, in a new playlist of the EFP Perio Sessions.
Prof Graziani's webinar was the second in the EFP Perio Sessions series, following Anton Sculean's April 14 presentation on the "Bernese" concept of treatment of single and multiple gingival recessions.
On Thursday 30 April at 17.00 (CET), Virginie Monnet Corti (University of Aix-Marseille) will give the third EFP Perio Sessions webinar, Improving smile aesthetics with periodontal plastic surgery, in which she will show how periodontal plastic surgery can modify gingival appearance and morphology, and will compare professional and patient assessment of gum aesthetics.
The fourth live webinar in the series will be given by Orly Nir-Shapira (private practice, Israel) on Thursday 7 May, at 17.00 (CET). She will discuss how to maximise the outcome of non-surgical periodontal treatment using the personalised approach, showing how to individual risk factors to tailor patient-specific treatment protocols that maximise the results of the minimally invasive approach.
Both these webinars will be moderated by Monique Danser, treasurer of the EFP.