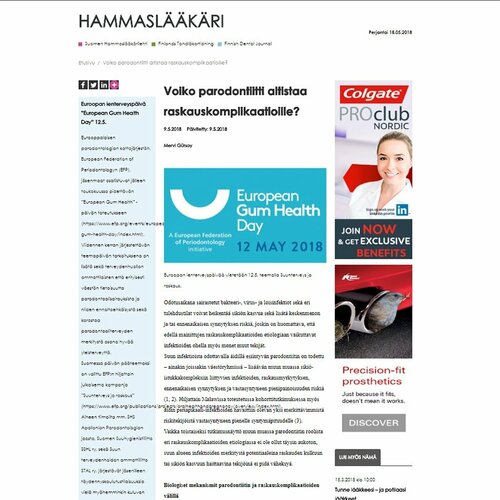 An article by Mervi Gürsoy about periodontitis and adverse pregnancy outcomes, which also highlighted European Gum Health Day 2018, was published on May 9 in the journal of the Finnish Dental Society.
The Finnish Society of Periodontology society has made the subject of oral health and pregnancy its "theme of the year" and has been using the materials prepared by the EFP/Oral-B Oral Health & Pregnancy project. Mervi Gürsoy was one of the authors of the scientific reports that formed the basis of this outreach campaign.
At the end of January, Dr Gürsoy gave a lecture in Helsinki on oral health and pregnancy to an audience of periodontists and general dentists. And the society is preparing a seminar on oral health during pregnancy and early childhood, which will take place in Helsinki on November 2.
The seminar – aimed at general dentists, dental paediatricians, and periodontists – will be an interdisciplinary event, with speakers including a gynaecologist, a neonatologist, an oral microbiologist, a pathologist, a specialist in periodontology, and a dental paediatrician.