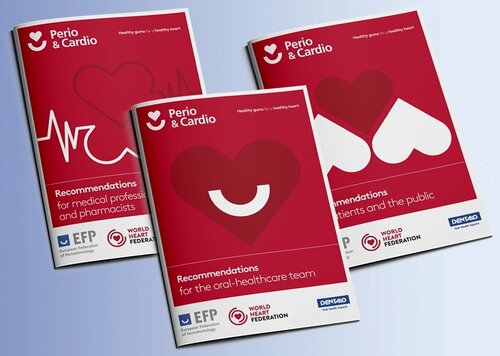 At the heart of the Perio & Cardio campaign – launched by the EFP and the World Heart Federation on September 15 – is a set of recommendations for dentists, doctors, and patients.
These clear and well-illustrated documents explain the latest scientific evidence on the links between periodontal and cardiovascular diseases and the steps that professionals and members of the public need to take.
In addition to these downloadable documents (in pdf format), the campaign also features infographics and video animation.
The key messages that the Perio & Cardio campaign highlights include:
There is scientific evidence of associations between periodontitis and cardiovascular disease (CVD), including increased risk of acute myocardial infarction, heart failure, and stroke.
In patients with CVD, periodontal treatment and good oral-hygiene habits may reduce the incidence of acute CVD events. Patients with CVD should receive a thorough oral-health examination.
Common lifestyle factors – such as smoking, stress, obesity, diabetes, and an unhealthy diet – aggravate both periodontitis and CVD.
The early diagnosis, prevention, and co-management (by dentists and physicians) of both cardiovascular disease and periodontitis is of the utmost importance.
Three sets of recommendations
The Recommendations for the oral-healthcare team emphasise the need to compile detailed patient histories to assess CVD risk factors, inform them of any CVD risk, and tell them to consult their doctors if any of these factors is not controlled.
Dentists and other oral-healthcare professionals are advised to inform patients with periodontitis of their higher risk of suffering CVD, provide them with a tailored oral-hygiene regime, and encourage them to address lifestyle factors that increase the risk of both diseases.
Patients with CVD should be given a thorough oral examination and placed on a preventive care regime if no periodontitis is diagnosed or a treatment regime if periodontitis is found.
The Recommendations for medical professionals and pharmacists state that patients with CVD should be advised that periodontitis may worsen their disease and increase the risk of CVD events, and that periodontal therapy may have a positive impact on their cardiovascular health.
Doctors should also ask patients with CVD about signs and symptoms of periodontitis (such as bleeding gums and loose teeth) and, where appropriate, recommended a periodontal evaluation. If patients have been diagnosed with periodontitis, doctors should investigate if appropriate periodontal care and maintenance are being provided.
The Recommendations for patients and the public emphasise good oral hygiene at home and there are also clear instructions on how to recognise gum disease and the lifestyle risk factors for both periodontitis and cardiovascular disease.
All the recommendations have been created by the EFP's communications team working with the federation's European Projects Committee (chair Filippo Graziani and junior officers Henrik Dommisch, Hady Haririan, and Paula Matasanz). All the material is based on the consensus report of the Perio & Cardio Workshop which was published in the EFP's Journal of Clinical Periodontology and the WHF's World Heart Journal in Feburary.
A specially edited version of this consensus report is also included among the materials of the Perio & Cardio campaign.