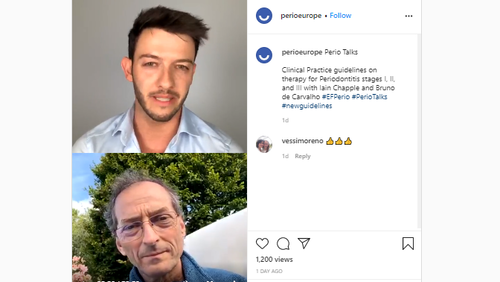 The first EFP Perio Talks live session on Instagram provided a preview of the soon-to-be-published S3-level clinical practice guideline on therapy for periodontitis (stages I, II, and III).
Former EFP secretary general Iain Chapple explained the purpose of the guideline and its four-step approach to periodontal therapy and answered questions on use of systemic antibiotics and lasers, and how the recommendations were graded according to the strength of the evidence.
In conversation with Bruno De Carvalho of the EFP Alumni committee, he also answered questions on the impact of protocols introduced because of the Covid-19 pandemic and on how to improve patient compliance.
The session, transmitted live on the EFP's Instagram page (@perioeurope) where it can now be viewed, took place on 14 July and marked the start of a new communications initiative by the EFP. There will be one Perio Talks session per month, in which leading periodontists discuss key topics in science and clinical practice.
Asked about the relationship between the new classification of periodontal diseases and the guideline, Prof Chapple (University of Birmingham, UK) said that having established the classification system for periodontal diseases, the next question was how to treat it.
"We think that in perio, we have more evidence than most other disciplines in dentistry – but sometimes when you dive down into the evidence there is not as much as you think," he said. "And so that's why we set about developing evidence-based guidelines at the S3 level – the highest level – so that we could guide people as to what the evidence says. It doesn't mean you have to practice that way, but it's what the consensus is, what the evidence suggests."
The guideline, to be published soon in an open-access supplement of the EFP's Journal of Clinical Periodontology was developed at last November's EFP-led Perio Workshop 2019, where 90 experts from 19 countries evaluated 15 systematic reviews on different forms of periodontal therapy.
At the heart of the guideline is a four-step approach to periodontal therapy. As explained by Iain Chapple in the Perio Talks session, the steps involve:
Preventive advice, risk assessment, behavioural change.
Cause-related therapy – managing the risk factors, removing the biofilm with non-surgical periodontal therapy.
Re-evaluation of the second stage of treatment, which may need to be repeated, and surgery (resective, access-flap, or regenerative) may be required.
Once the definitive stage of treatment has been undertaken, the final step is about maintenance and supportive treatment to keep everything stable.
Asked by Dr De Carvalho (University of Liège, Belgium) about how the strength of the recommendations and the consensus, Chapple explained how evidence was graded using an internationally accepted system into three levels: a very strong recommendation, a recommendation, and an "open recommendation" where there was not sufficient evidence for or against and it is up to individual clinicians to make a professional judgement.
He stressed that the recommendations were not necessarily based only on the evidence: "You have to take into account other factors. You might get a better treatment outcome with a particular approach, but it might cost the patient a lot of money, or there might be environmental risks in undertaking that type of intervention."
Antibiotics and lasers
On the controversial question of the use of antibiotics, Chapple explained that the recommendation was against using systemic antibiotics. However, "the reason for that was not the evidence, it was antimicrobial stewardship. There were very few studies that had gone beyond 12 months and there wasn't much data out there on the side effects and long-term development of resistance to antibiotics. That does not mean that in select and specific cases you should not use them."
Another tricky topic was the use of lasers, where there was not sufficient data to be reach a positive recommendation on their use. There was also insufficient evidence to make lifestyle recommendations on nutrition and diet, an area which Chapple said was "close to my heart".
As he explained, "The bottom line is we don't have enough research evidence yet to be able to make a recommendation. But that won't stop me from saying to a patient, there are various lifestyle changes that we think will help – and, for me, nutrition is an important one and exercise is an important one."
He added that while we cannot yet make the recommendation based on robust evidence, "I suspect in the near future when we come to revise the guidelines it will have an evidence base. It does with most chronic conditions."
Next step
Having created the guideline, the next step is implementing it on a country-by-country basis. Given the differences between nations in terms of healthcare and funding systems and the fact that in many countries periodontology is not recognised as a speciality, "from the very start we knew that the implementation would have to be country-specific".
He explained how the British, German, and Spanish perio societies had got together and reviewed the systematic reviews and updated the evidence for their own national "adolopment"* processes. Here, each society would then decide for each recommendation whether to simply adopt it or whether to adapt it because something had changed or because it would not work in its healthcare system.
"Once that's been done at a national level, it's then really about trying to train, getting the message out via social media and through any kind of education forum that will do," Iain Chapple concluded.
For Bruno De Carvalho, this debut session of EFP Perio Talks was "a refreshing way to talk about periodontics in a relaxed environment, interacting with clinicians from all over the world. I'm looking forward to the next Instagram live sessions."
The next EFP Perio Talks session is scheduled to take place on Tuesday 18 August at 19.00 (CET) on Instagram and will feature Prof Lior Shapira (EFP president-elect) in conversation with Reena Wadia (EFP communications team). The topic will be announced at the beginning of August.
* "Adolopment": Adaptation, Adoption, De Novo Development (ADOLOPMENT), part of the Grading of Recommendations: Assessment, Development, and Evaluation (GRADE).