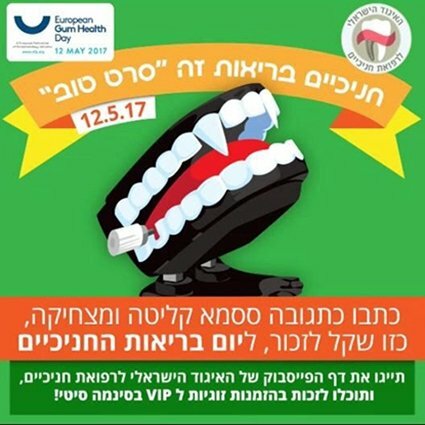 The Israeli Society of Periodontology and Osseointegration used Facebook as its main vehicle to communicate messages about periodontal health for European Gum Health Day.
At the start of May, it launched a campaign among its Facebook followers – periodontists, hygienists, dentists, dental students, and patients – who were invited to come up with a catchy or funny slogan about periodontal health.
The campaign reached 330,000 people and more than 7,000 people reacted to it, by "liking" the Facebook posts, sharing them, or commenting on them. The society reports that the campaign led to a 23% increase in followers of its Facebook page.
On May 12, the Israeli perio society published articles about periodontal-related issues in various online media, along with short Facebook posts about the importance of gum health. These posts concerned periodontal health in relation to women, children, and smokers, and issues including bad breath and the links between periodontal disease and diabetes.
On the same day, it also announced the 10 winners of the slogan competition (who each won two tickets to see a film at a VIP Movie cinema). Examples of winning slogans included: "You clean, you win" and "Go to a periodontist to have your smile at the front."