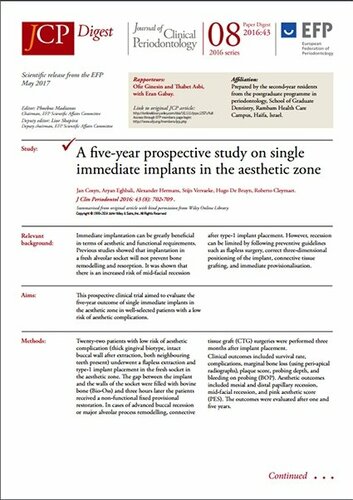 A five-year prospective study on single immediate implants in the aesthetic zone has concluded that this kind of implant has a high survival rate and limited marginal bone loss in the long term.

However, the study also showed indications of resorption of the buccal bone, which causes aesthetic complications. There was an increased risk of mid-facial recession after the placement of single immediate implants.

As a result, the researchers suggested that "single immediate implant placement in the aesthetic zone might not be recommended for the routine care of all patients."
The aim of the study – summarised as JCP Digest 08 (2016: 43) – was to evaluate the five-year clinical and aesthetic outcome of this form of treatment, as there was previously a lack of long-term data on the soft-tissue aesthetics of single immediate implants.
The original research, published last year in the Journal of Clinical Periodontology, was carried out by researchers at Ghent University and Vrije Universiteit Brussel in Belgium.
It was précised for the JCP Digest by residents of the postgraduate programme in periodontology at the School of Graduate Dentistry, Rambam Health Care Campus, Haifa, Israel.
JCP Digest 08 is available for viewing and downloading on the EFP website in English, French, German, Italian, Portuguese, and Spanish.