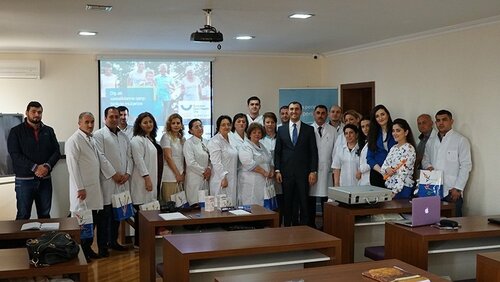 The Azerbaijani Society of Periodontology celebrated European Gum Health Day with university seminars and free periodontal screenings across the country.
Cavid Ahmedbeyli, the society's president, gave a day-long seminar and workshop on the topic of "Prevention, early diagnostics and treatment of periodontal diseases" at the Azerbaijan State Advanced Training Institute for Doctors.
Meanwhile, Aslan Mammadov (vice president of the society) and Ramiz Ahmedbeyli (president of Azerbaijani Association of Aesthetic Dentistry) gave lectures on "Current approaches in the treatment of periodontal disease" to undergraduate and postgraduate dental students at the Azerbaijan Medical University Dental School.
The society's board members and most of its general members offered free periodontal screenings in different regions of Azerbaijan, provided patients with information about the importance of periodontal disease, and gave them recommendations on prevention and treatment.
The society, which became a member of the EFP in April, provided posters about European Gum Health Day to its members, issued a press release about the importance of early diagnosis and treatment of periodontal disease, and shared information via social media. It also produced a YouTube video about its activities.
"European Gum Health Day 2017 is the first public awareness day in Azerbaijan aimed at raising the importance of gum health," said Dr Ahmedbeyli. "We express our gratitude to society members, to dentists, and to periodontists practising in Azerbaijan for joining us in this event and in fighting periodontal disease together."