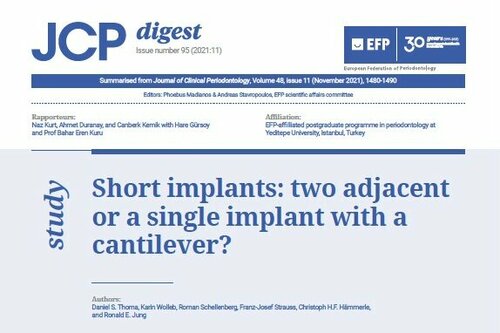 Two options for restoring function and aesthetics when treating two-unit gaps in posterior areas are commonly used: two adjacent implants or a single implant with a cantilever.
The potential advantages of the single implant with cantilever are less patient morbidity, a shorter treatment time, and lower cost.
A prospective, parallel-design randomised clinical trial, now summarised as JCP Digest 95, compared the clinical, radiographic, and technical results of the two approaches over five years of functioning.
The study's primary outcome was radiographic marginal bone loss, while biological complications (peri-implant mucositis and peri-implantitis) and technical complications (fracture of the implant or abutment, chipping, or loosening of the screw) were also evaluated.
The research found no statistically significant differences between the two groups on any of the outcomes, although short implants with a cantilever were more prone to earlier failure, suggesting that implants had been overloaded.
Researchers concluded that both treatment options should be carefully considered by clinicians when preparing to reconstruct two-unit gaps in the posterior area of the jaws.
The research was summarised for JCP Digest by postgraduate students of the EFP-affiliated programme in periodontology at Yeditepe University, Istanbul, Turkey.