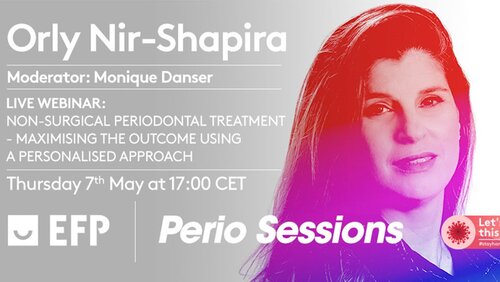 Maximising the outcome of non-surgical periodontal treatment using the personalised approach is the topic addressed in the fourth EFP Perio Sessions live webinar, to be given on Thursday 7 May by Israeli periodontist Orly Nir-Shapira.
In this webinar, Dr Nir-Shapira will explain how we have ways to map individual risk factors and how this knowledge can be used to shape treatment protocols, thereby maximising the results of the minimally invasive approach.
"The scientific evidence shows that inter-individual differences shape our response to treatment and suggests that modern periodontal treatment should be tailored for every patient according to their risk profile," she said.
The webinar, aimed at general dentists and hygienists, will illustrate ways to assess patients' risk of periodontitis, show what we can expect from conventional non-surgical therapy, and will also explain adjunctive therapy to the non-surgical treatment.
Orly Nir-Shapira received her dentistry diploma (DMD) in 1995 and her speciality certificate in periodontology in 1999, both from the Hebrew University-Hadassah Faculty of Dentistry, Jerusalem, Israel.
She maintains a private practice limited to periodontology and implant dentistry, and her clinical work focuses on the treatment of periodontal diseases in young individuals, minimally invasive surgery, and regenerative procedures of bone and soft tissue around teeth and implants.
Dr. Nir-Shapira is a past-president of the Israeli Society of Periodontology and Osseointegration (2015) and a board member from 2012 to 2017.
This fourth EFP Perio Sessions live webinar will be moderated by EFP treasurer Monique Danser. It takes place at 17.00 (CET) and registration is now open.