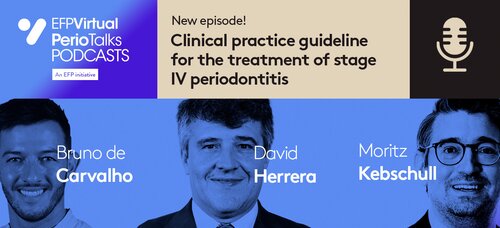 The EFP clinical practice guideline on the treatment of stage IV periodontitis is the topic of the latest EFP Perio Talks podcast, which is now available for listening.
David Herrera and Moritz Kebschull, who played leading roles at Perio Workshop 2021 which drew up the guideline, explain its importance and potential impact.
"The most severe and challenging form of periodontitis – stage IV – is treatable, although it may be a challenging task. To help in the management of these patients, the recommendations of the guideline developed by the EFP can be very helpful," says David Herrera, chair of the EFP workshop committee. "This will also have an impact on systemic health and quality of life."
Moritz Kebschull, an elected member of the EFP executive committee, said that the guideline – developed to the "world-leading" S3 format offers "a thorough appraisal of the evidence with the combined clinical knowledge and common sense of a large and diverse group of experts." As a result, "the EFP sets a new standard for high-quality perio therapy."
During the podcast, hosted by Bruno de Carvalho, professors Herrera and Kebschull talk about the methodology for creating an S3-level guideline, the reason why the complexity of stage IV periodontitis meant that a separate guideline was required, the need for a multidisciplinary approach, and how successfully stage IV periodontitis can be managed.
They also discuss the four case types involved in stage IV periodontitis, described by Moritz Kebschull as "an immensely complex animal", and explain when dental implants or tooth-supported prostheses may be the appropriate solution and when it may be better not to replace a lost tooth.
The podcast also addresses the impact of periodontal treatment on systemic health and quality of life and explains the so-called "adolopment" process, whereby this supranational guideline is being implemented to work with different national healthcare and socio-economic contexts.