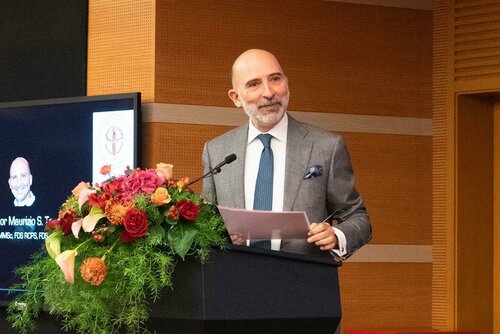 At midnight on March 31, Maurizio Tonetti steps down as editor-in-chief of the EFP's Journal of Clinical Periodontology (JCP) after 15 years and hands over the EFP's flagship publication to Panos Papapanou.
Under his editorship, the JCP has grown in strength: it is consistently ranked in the top three journals in dentistry and last year achieved its highest-ever impact factor of 5.241.
In the new edition of Perio Review, the EFP's annual report on its activities, Prof Tonetti explains how the JCP has evolved and how its real impact goes beyond the metric of the impact factor to include the 1.1 million annual downloads of papers published in its pages, the 7,424 institutions around the world that take it, and the number of its papers that inform policy documents.
"In my view, the impact of the JCP is measured in the way it has changed the field and has transformed periodontology," he writes. "The impact of the journal comes through the education of the clinicians and through the policies that are informed by the papers. And that is an enormous impact."
The article describes the evolution of the JCP since Maurizio Tonetti became editor-in-chief, succeeding Jan Lindhe, in 2005 when it was still a print-only publication. He says the three factors have helped to drive the JCP's success: credibility, integrity, and experience.
In his article, he also describes how the number of universities contributing to the journal has expanded significantly over recent years and the importance of initiatives such as the JCP Digest research summary, which brings the scientific content of the journal to clinicians ("taking it away from the scientific language and translating it clinically").
While he admits that "it is not easy to let go of this role" he is confident about the future of the JCP which he leaves in the "very good and capable hands" of Prof Papapanou, "who has a brilliant mind and will do phenomenally well."
As he prepares to take over as JCP editor-in-chief, Panos Papapanou said: "The strength of the JCP is its stature and the stature is directly related to the quality of the papers that appear in it. It is a very prestigious publication, so there is a lot of history involved, and Maurizio has done a fantastic job over this long tenure."
EFP secretary general Nicola West said: "The importance of the Journal of Clinical Periodontology to the EFP cannot be underestimated and everyone concerned should be congratulated – in particular, Professor Maurizio Tonetti, who has positioned the Journal as a great asset to the discipline and the profession overall. His dedication and drive have influenced the development of evidence-based periodontology and implant dentistry as well as ensuring that the profile of periodontology remains high. On behalf of the EFP, I would personally like to thank Maurizio for his devotion, expertise, and enduring legacy."