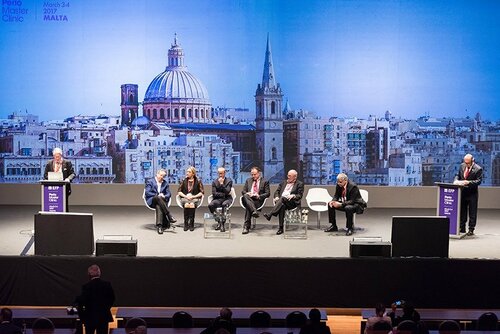 Perio Master Clinic 2019, which takes place in Hong Kong in March next year, will be the third such event that the EFP has organised.
The Hong Kong master clinic – which focuses on the prevention and treatment of soft- and hard-tissue defects – will build upon the work of the first two Perio Master Clinics, held in Paris in 2014 and Malta in 2017.
The original idea behind the creation of the Perio Master Clinic was for the EFP to have a high-level international event between the triennial EuroPerio congresses focused on a single key topic in periodontal clinical practice.
One of the most important features of the Perio Master Clinic is that numbers are limited to a maximum of 550 participants, which helps to create an optimal learning environment.
The first Perio Master Clinic, held in Paris on Feburary 7 and 8, 2014, explored peri-implant plastic and reconstructive surgery. The chair of this master clinic – which featured 3D video presentations for the first time at an EFP event – was Jean-Louis Giavanolli and the scientific chair was Pierpaolo Cortellini.
As Dr Cortellini explained, the aim was to underline both soft-tissue and hard-tissue management around implants "making a full story from tooth extraction through surgical procedures and final reconstruction."
Paris was followed by Malta, with Perio Master Clinic 2017 taking place in Valletta on March 3 and 4, 2017. This time the topic was peri-implantitis, which was addressed from aetiology to treatment.
Organised by the Turkish Society of Periodontology, chaired by Korkud Demirel, with Stefan Renvert as scientific chair, the event featured an innovative approach to scheduling.
When registering for the event, participants were sent a questionnaire asking them to indicate the questions that were most important to them. Through this feedback, speakers were able to tailor their presentations to the specific interests of the audience.
The Malta event was attended by professionals from 56 different countries and, unlike the first Perio Master Clinic, it featured an exhibition that provided participants with the chance to build and develop fruitful relationships with industry.
Hong Kong and beyond …
Perio Master Clinic 2019, which takes place in Hong Kong on March 1 and 2, 2019, features a line-up of leading clinicians from around the world who will share their insights on the prevention and treatment of soft- and hard-tissue defects in relation to peri-implantitis.
This topic is a key aspect of modern periodontal practice because of increasing patient needs and expanding therapeutic possibilities. A key message will involve challenging the wrong perception that peri-implantitis is both an inevitable and unmanageable aspect of dental implants.
The first EFP event to be held outside of Europe, this master clinic is being organised by the EFP with the Hong Kong Society of Periodontology and Implant Dentistry (HKSPID).
As Maurizio Tonetti, chair of Perio Master Clinic 2019, points out, this top-level meeting for clinicians will offer "EFP excellence, the Asian way."
In 2020, attention turns back to Europe with Perio Master Clinic 2020, which will be held in Dublin on March 6 and 7. It will be chaired by Declan Corcoran, with current EFP president Anton Sculean as scientific chair.
This time the focus will be the current and future challenges related to hard- and soft-tissue aesthetic reconstruction around teeth and implants.